Thank you, PPPS families, for your support of Early Release Wednesdays! While today is the last Early Release Wednesday of the school year, please know that our teachers and staff are grateful for having this time set aside each week to work together, share ideas and collaborate on strategies for success. #ProfessionalLearningCommunity #TeamWork #BuildTogetherPawPaw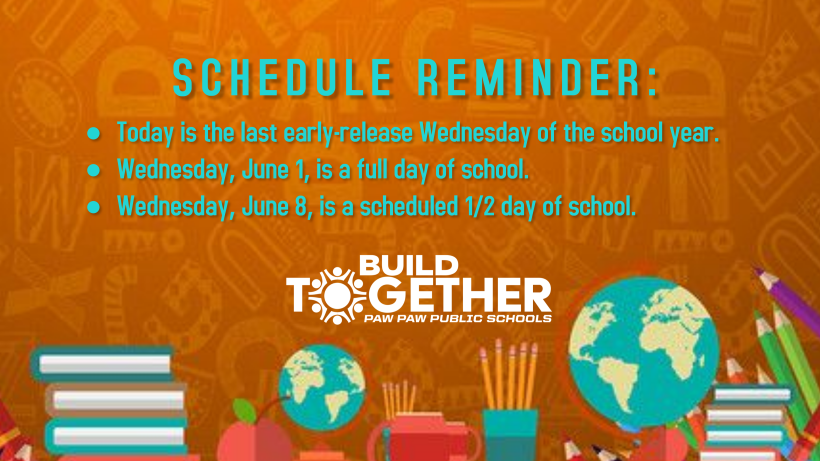 Your Board of Education wants you to know about the great things they see happening in and around Paw Paw Public Schools! #BuildTogetherPawPaw

Seniors were given this handout on Friday afternoon. Copies are available in the office. Senior parents- take a look for more details about the next couple weeks. Also enclosed is the calendar we shared in late April- sharing again.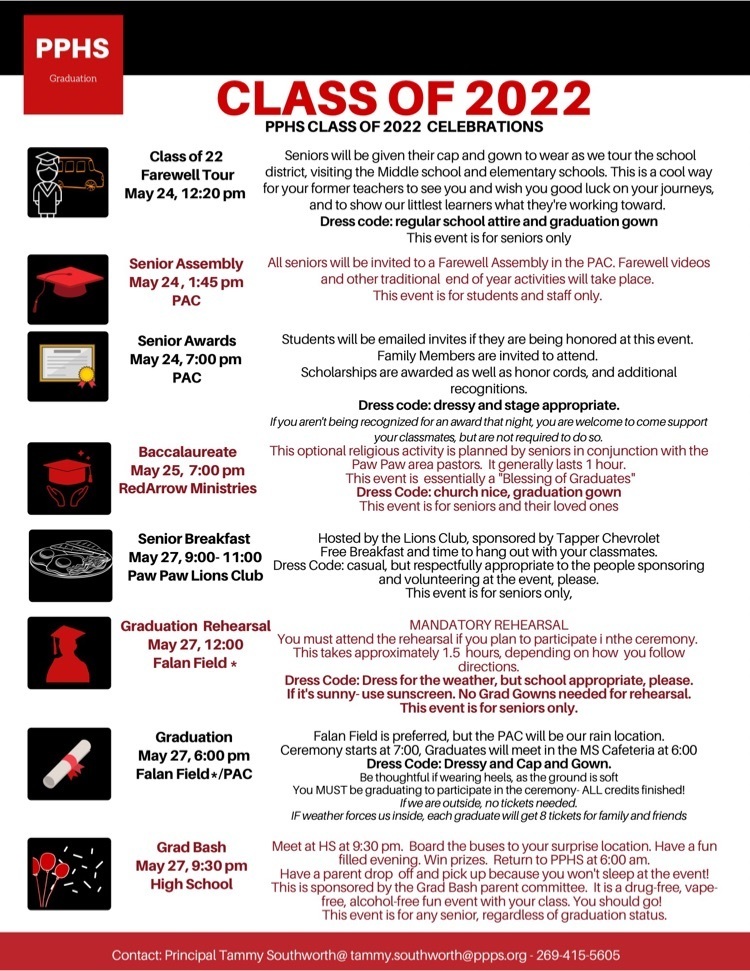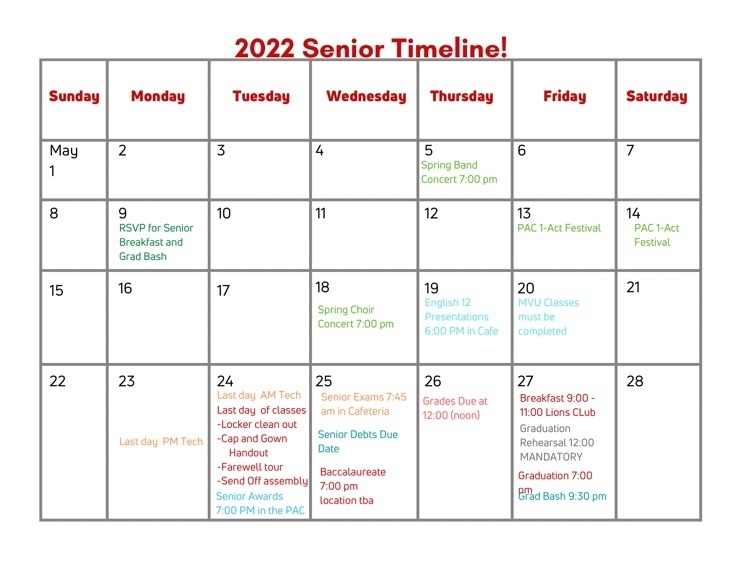 Upcoming Community Forums: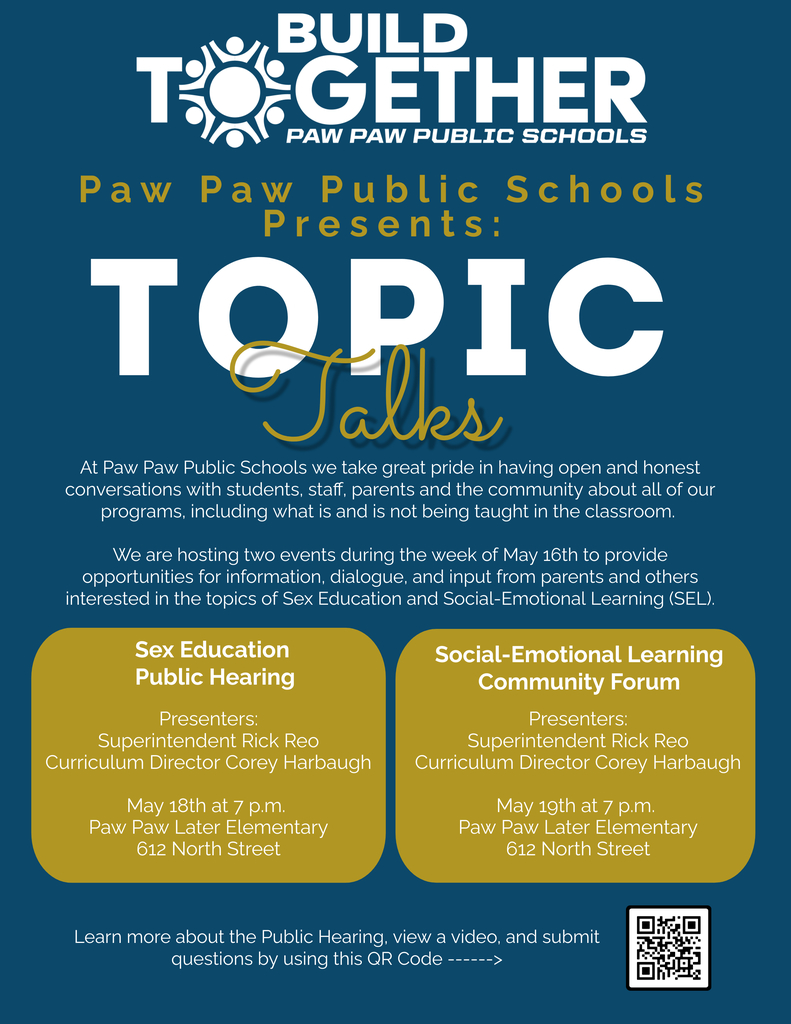 Senior parents From Grad Bash: It is hard to believe in less than two weeks it is the big day of graduation and our Grad Bash overnight event. Grad Bash officers have been busy finalizing details to make sure your senior has an amazing experience and have been working to collect and purchase prizes for all seniors who attend. We understand life is busy and many of you have not been able to attend meetings or be involved as much as you would have liked to- however there is still time. We are in need of a minimum of 6 more parents to chaperone in order to have the Grad Bash event. We need help from approximately 9 pm Friday night until 6 am Saturday morning. If you are able to help please text or call Julie at 269-870-2911.

Be sure to spread the word that this Friday, May 13th is Paw Paw Public Schools Senior Citizens' Luncheon at the high school cafeteria!This FREE event begins at 1:15 p.m. and is open to seniors 60 years and older. #BuildTogetherPawPaw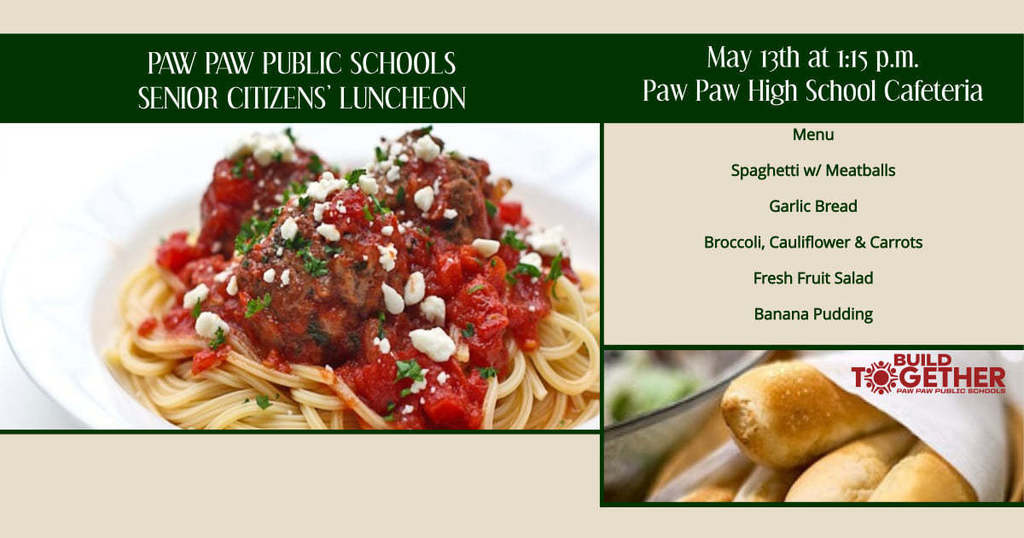 #BuildTogetherPawPaw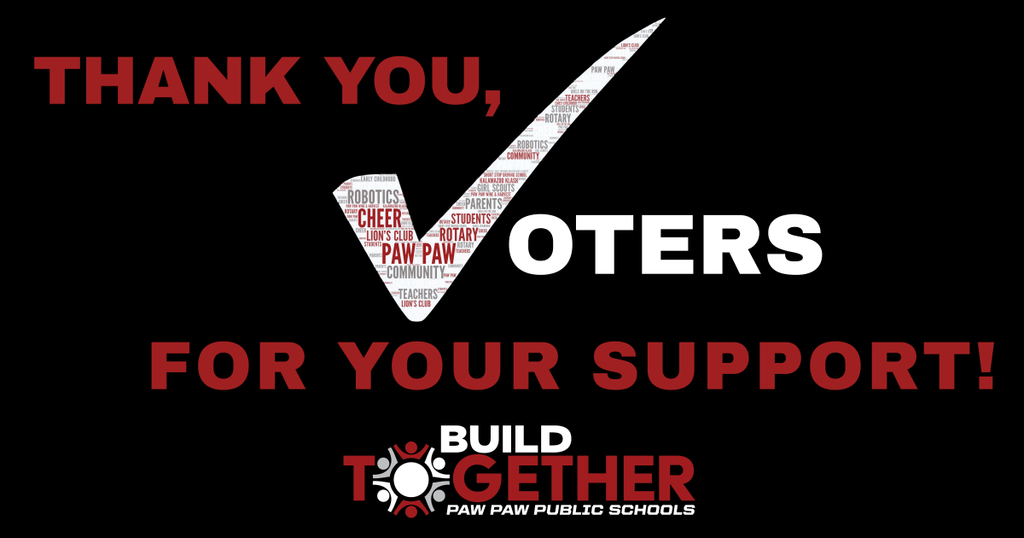 "There is no power for change greater than a community discovering what it cares about." Margaret J. Wheatley Thank you to all of the Paw Paw Public Schools Teachers and Staff for making a positive and lasting impact on the lives of all students. We appreciate you! #BuildTogetherPawPaw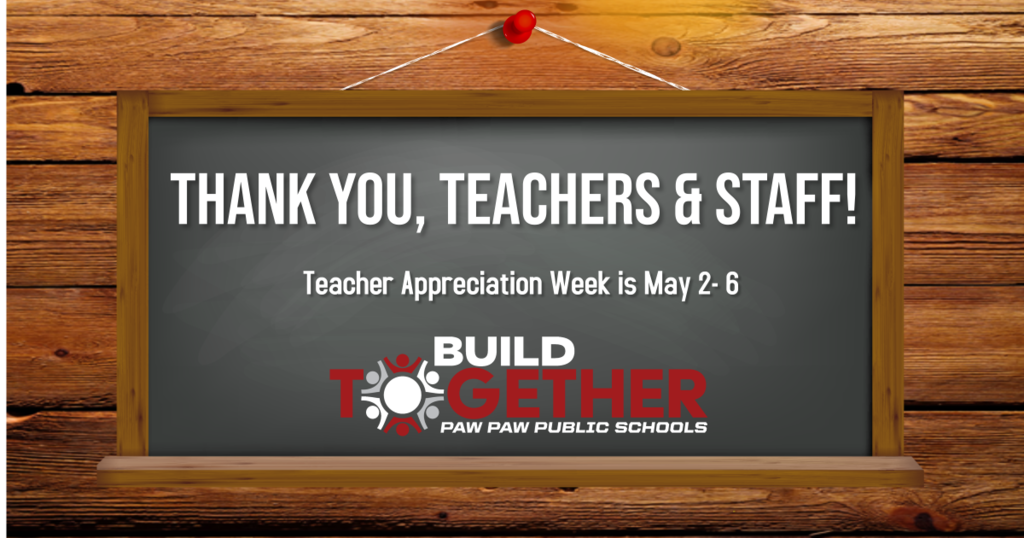 Tomorrow is Election Day! Every vote counts, so please make a plan to vote. Help spread the word by sharing this reminder with your family, friends and neighbors. To learn more about the PPPS Bond Proposals, visit
www.ppps-bond.com
. #BuildTogetherPawPaw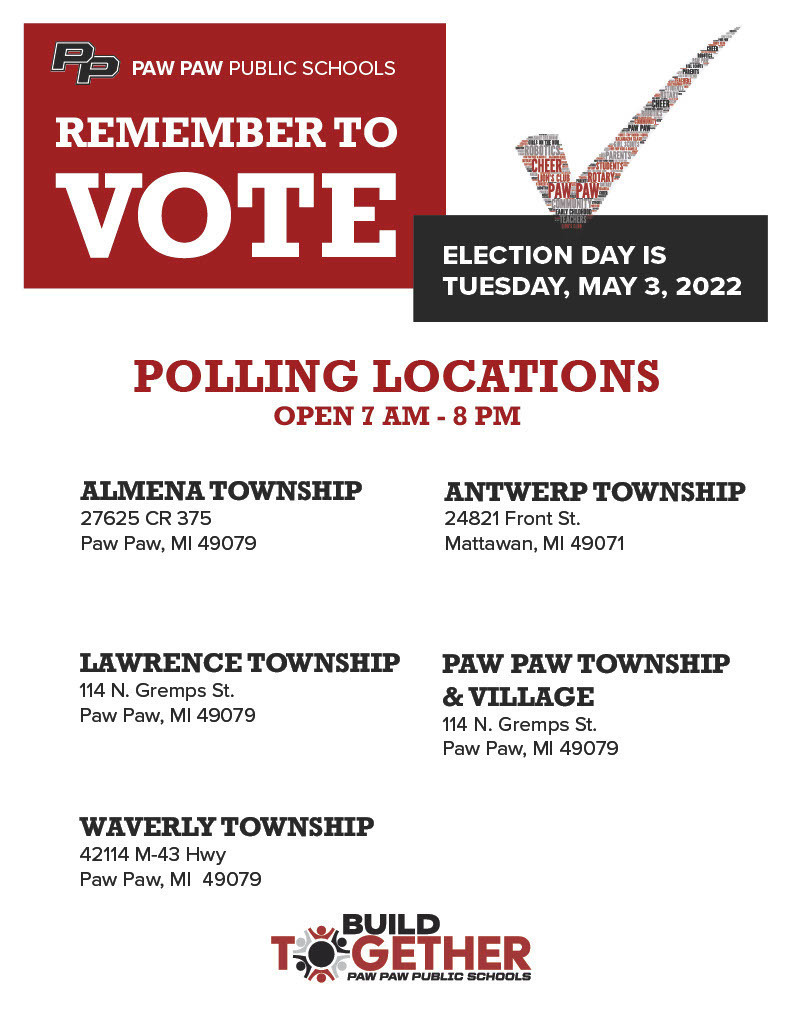 If you have a child entering Kindergarten or Young 5's next fall, then you won't want to miss the "Kindergarten/Young 5's Information Night" on Wednesday, May 11th at 6 p.m. at Paw Paw Early Elementary! Meet other families, the award-winning teachers and staff, and learn about schedules, programs and what forms are required to register. To find out more, call the Early Elementary Office at 269-415-5300, and if you already have the information you need, Kindergarten and Young 5's registration is open online at
www.ppps.org
.

Mark your calendars for the next Senior Citizens' Luncheon on May 13th at 1:15 p.m. at Paw Paw High School! This FREE event is hosted by Paw Paw Public Schools as a way to show we care about seniors and the valuable contributions they make in the community. All seniors 60 years and older are welcome to attend. #BuildTogetherPawPaw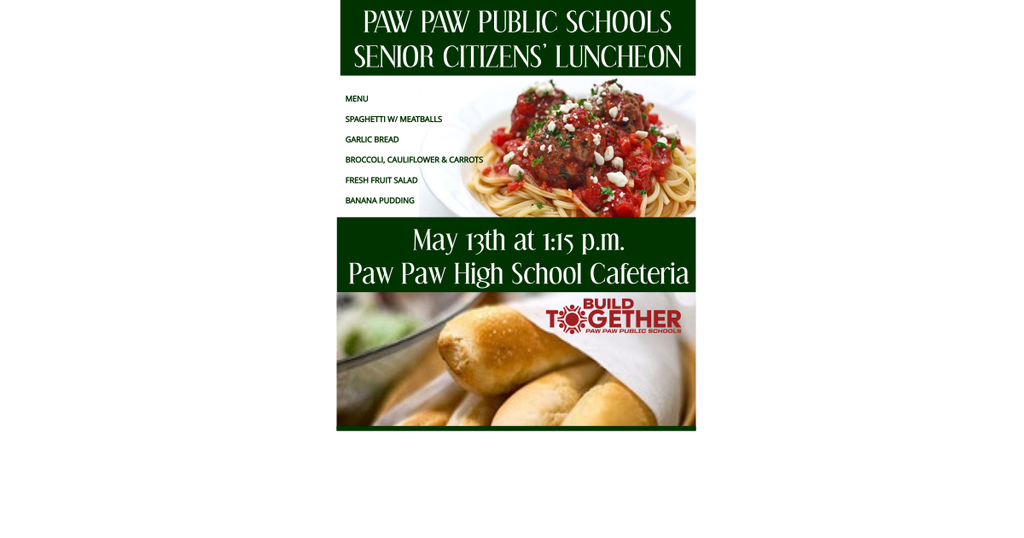 To all of the superstar administrative professionals at Paw Paw Public Schools and beyond, we could not do what we do without you. THANK YOU! #BuildTogetherPawPaw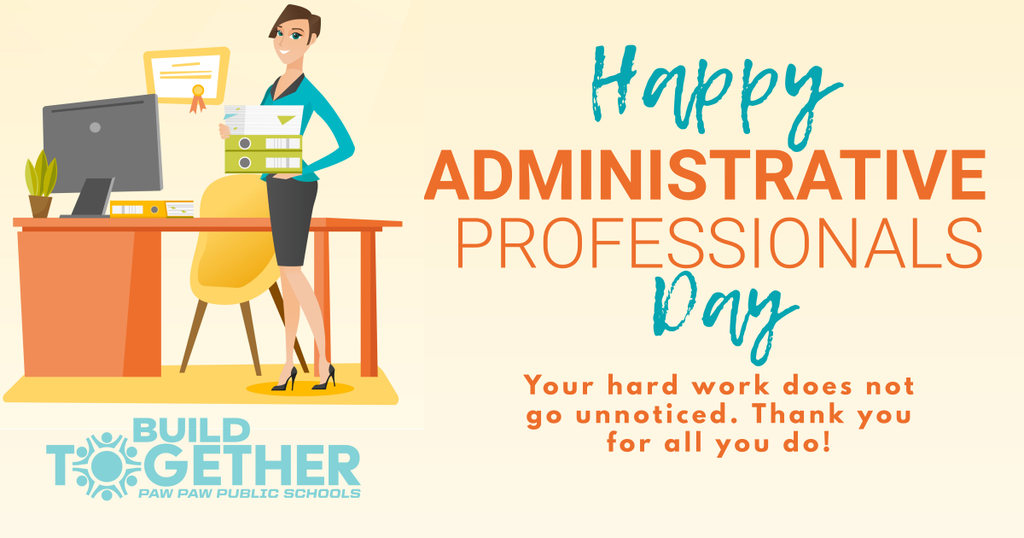 With election day just one week away, this is your chance to exercise your constitutional right to vote! #BuildTogetherPawPaw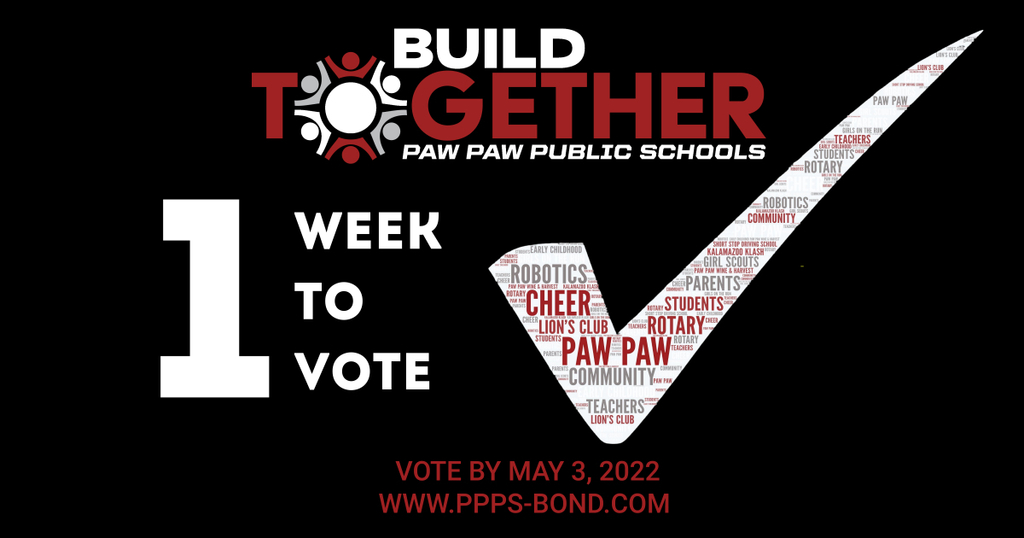 Parent Teacher Conferences are Thursday afternoon. If there is a teacher you would like to meet with to discuss your child's progress, please use the following link to make an appointment (virtual or in person):
https://www.schoolbookings.net/code/ds439

What does it mean to "Build Together?" Just ask anyone @pphsrobotics and they'll tell you how they treat each other like family, how they spend hundreds of hours working side by side - creating, preparing, testing and perfecting their designs to compete at the highest level. Today, it all paid off! Your friends and family in Paw Paw could not be prouder. Wishing you safe travels and all the best at the FIRST World Championship in Houston! #BuildTogetherPawPaw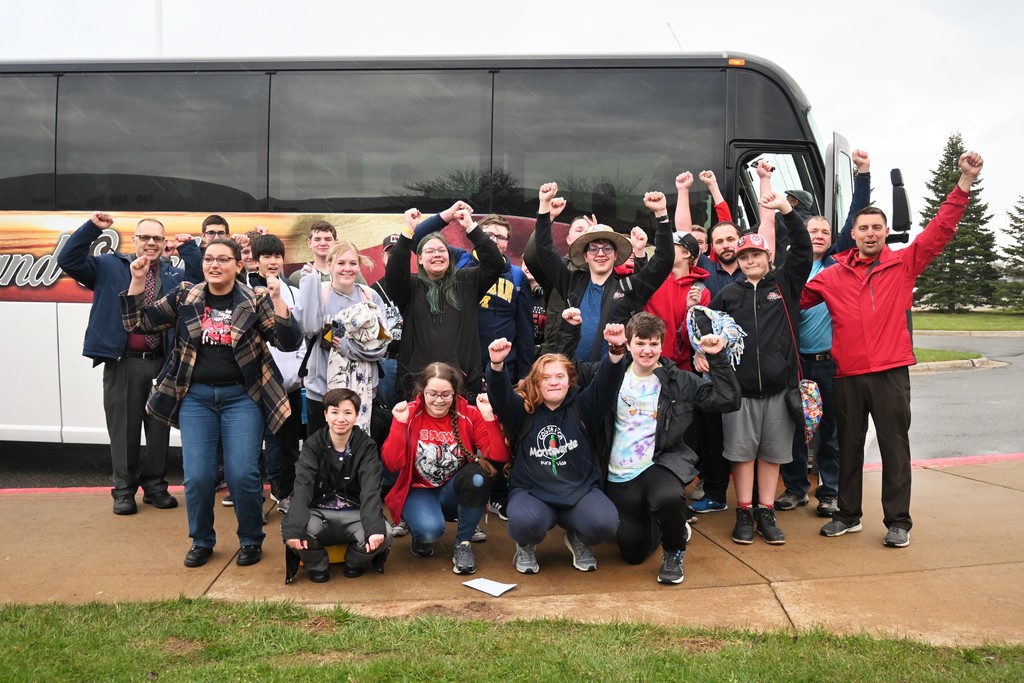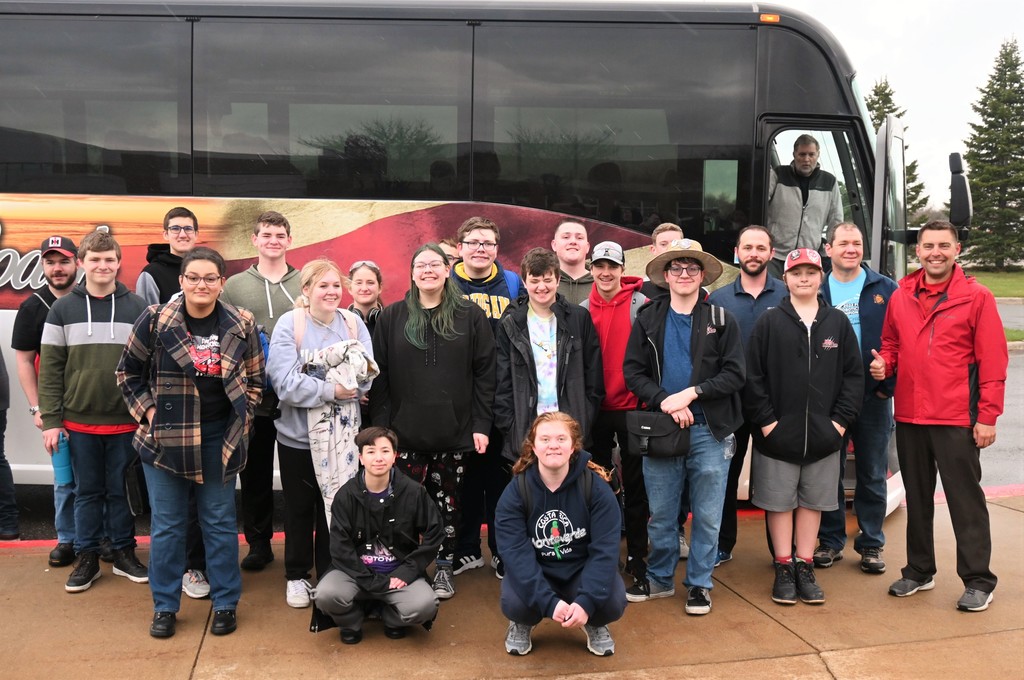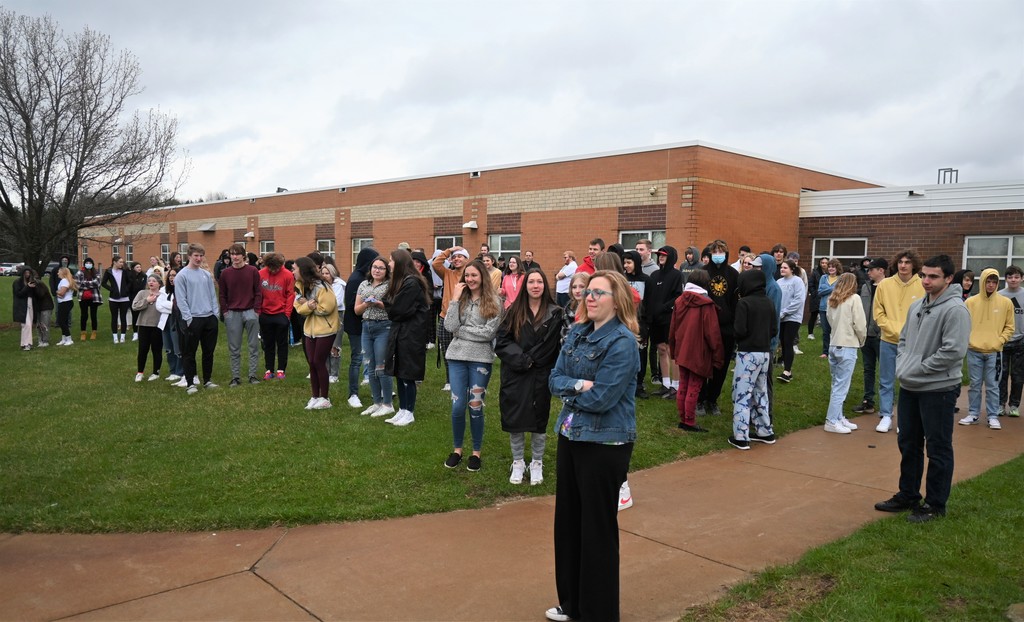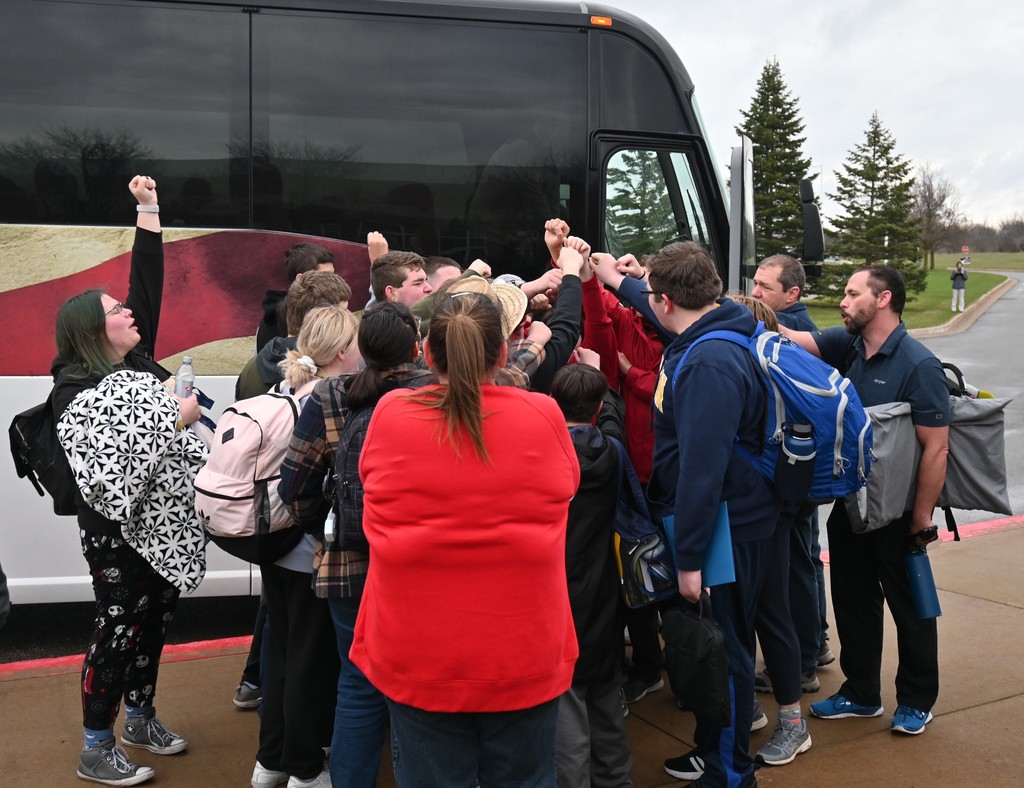 With the May 3rd election only two weeks away, this is a great opportunity to learn more about the PPPS Bond Proposals and get your questions answered. Join us for dinner and a presentation tomorrow night at the Paw Paw Lions Club! #BuildTogetherPawPaw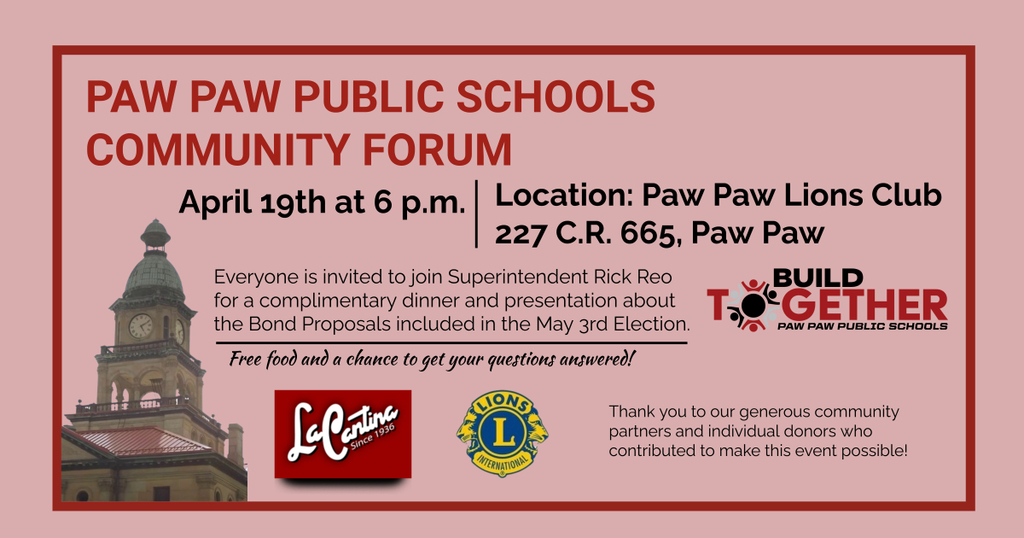 With the May 3rd election only two weeks away, this a great opportunity to learn more about the PPPS bond proposals and get all of your questions answered! Join us for dinner and a presentation tomorrow night at the Paw Paw Lions Club. #BuildTogetherPawPaw

Your Board of Education wants you to know about the great things they see happening in and around Paw Paw Public Schools! #BuildTogetherPawPaw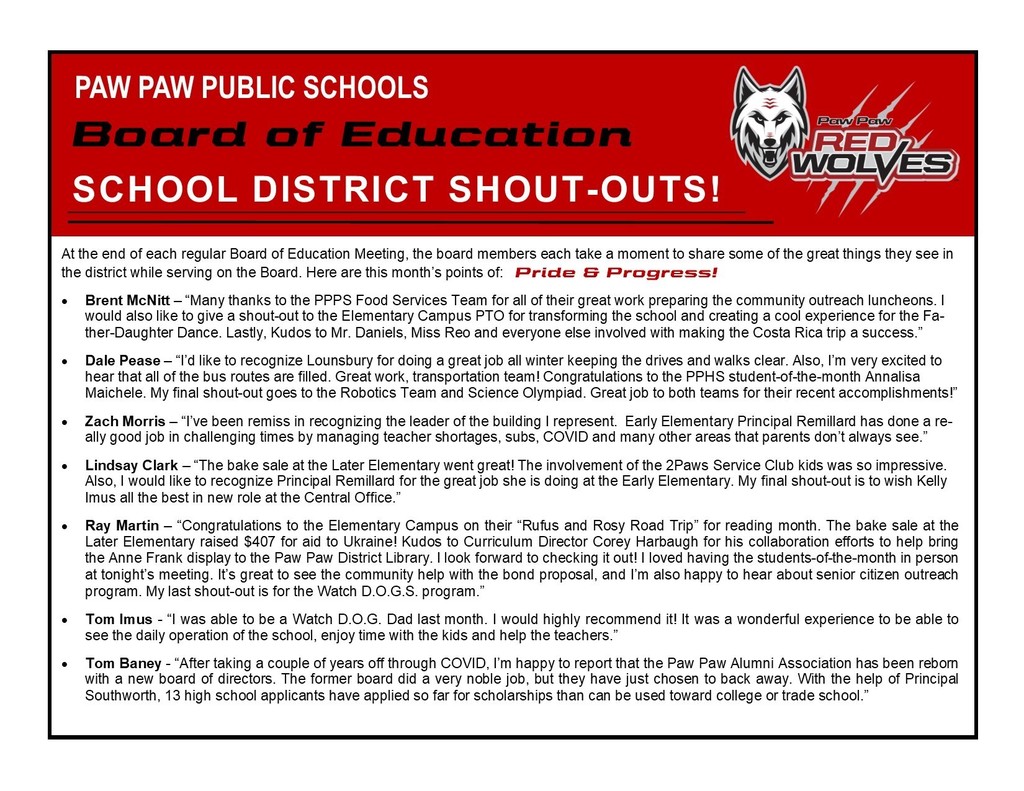 You don't have to wait until May 3 to vote! All registered voters, living in the Paw Paw Public School District, are eligible to vote by mail. To request a ballot to be mailed to your home, visit:
https://mvic.sos.state.mi.us/AVApplication/Index
#BuildTogetherPawPaw

Like this post to show your admiration for the 2 Paws Service Club at Paw Paw Later Elementary! At their bake sale yesterday, they raised a whopping $407 with proceeds going to UNICEF to benefit the humanitarian needs in Ukraine. The first to hold their fundraiser, PPLE is in competition with the PPMS and PPHS Leo Clubs to see which club can raise the most money! #GameOn #UkraineAid #BuildTogetherPawPaw