Enjoy your Spring Break! School will resume on Monday, April 11th.

Mrs. Smith's 1st grade class is reading their way into Spring Break!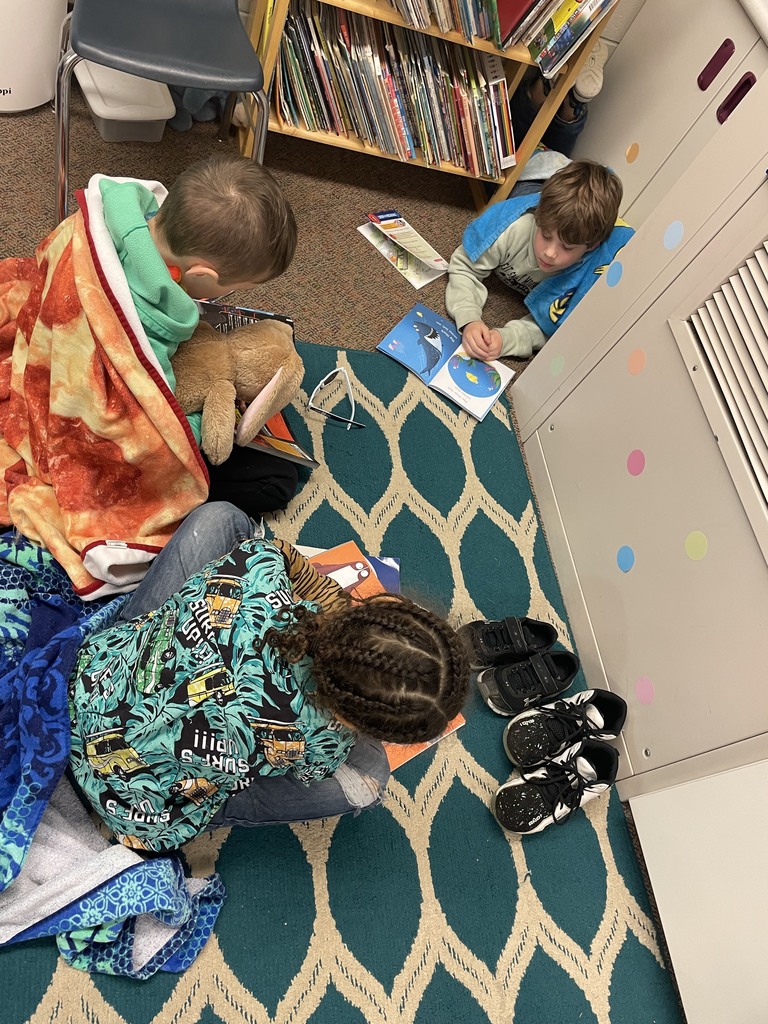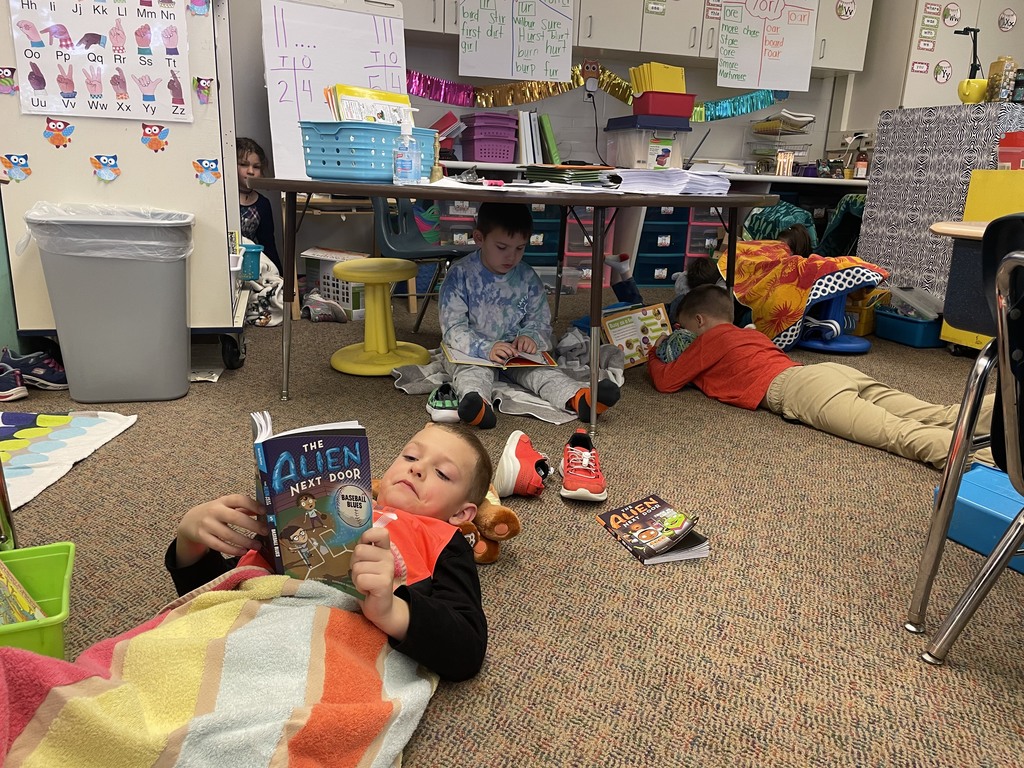 Today we welcomed two WatchDOGS into the Early Elementary. These guys lead a great game of Red Light Green Light during recess. I know the student enjoyed having this duo at the school. They were both here for Miss Day's 2nd grade student. Ben Stermer is her father and Gregg Flint is a close family friend. Thank you both for dedicating your day to our students!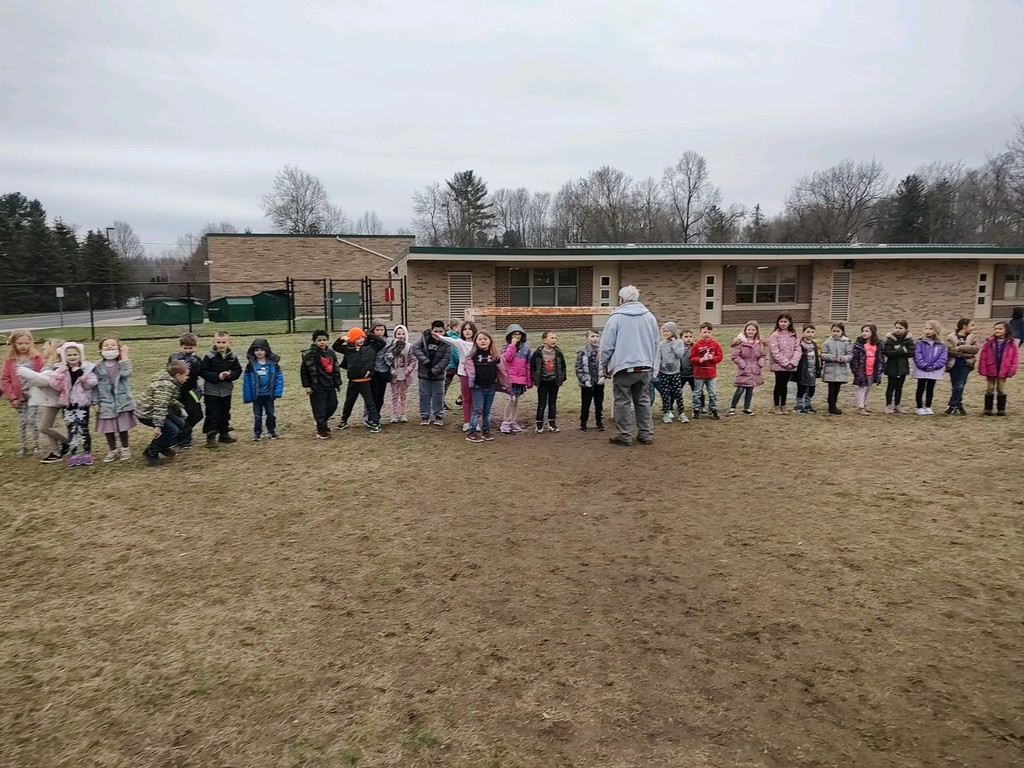 Mr. Mathew Baleja, who is also a teacher at PPHS, was our WatchDOG on Monday. Mr. Baleja is the father of Mrs. Dalton's kindergarten student. We enjoyed having you at our school and would love for you to volunteer again!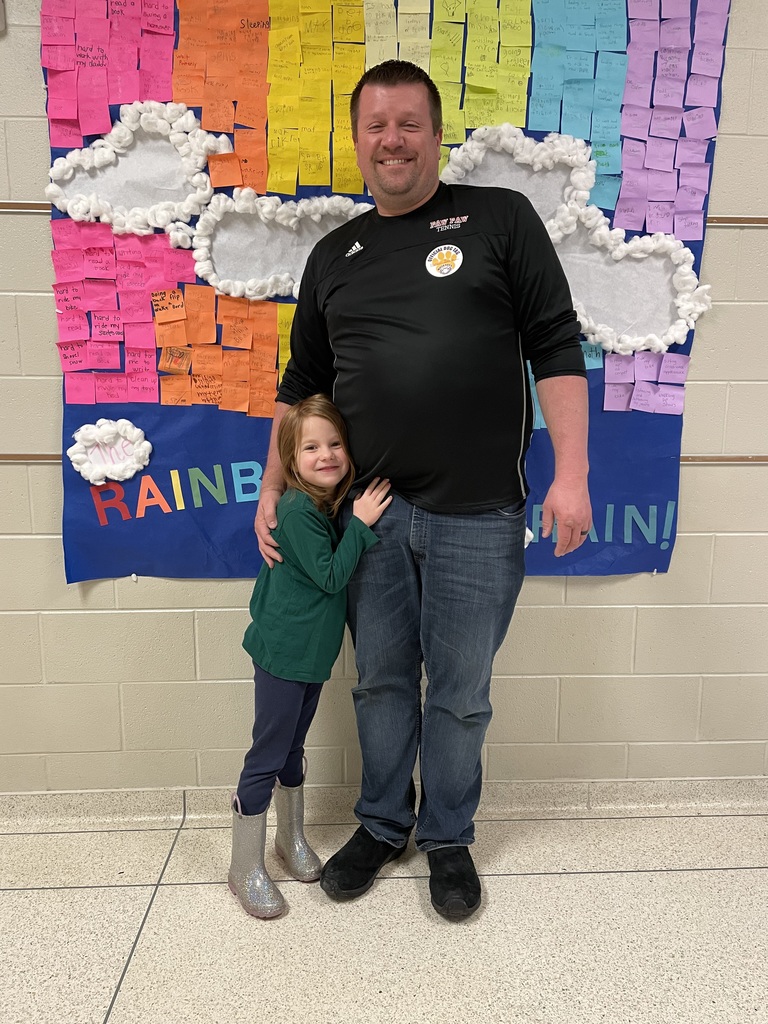 Mr. Joseph White is the father of 2 of our students who happen to be twins! Joseph volunteered at our school and helped celebrate his daughter's birthdays. He was with us on Friday and again on Monday. Mr. White enjoyed seeing the kids in the classrooms and loved how happy they were to see him. Thank you for your time!

Last week we had a WatchDOG visit our students for a second time. This man is not only the grandparent of 2 students but also holds the title of Mr. Kalamazoo! Thank you Mr. Scott Williams for donating your time to our students. He truly is dedicated.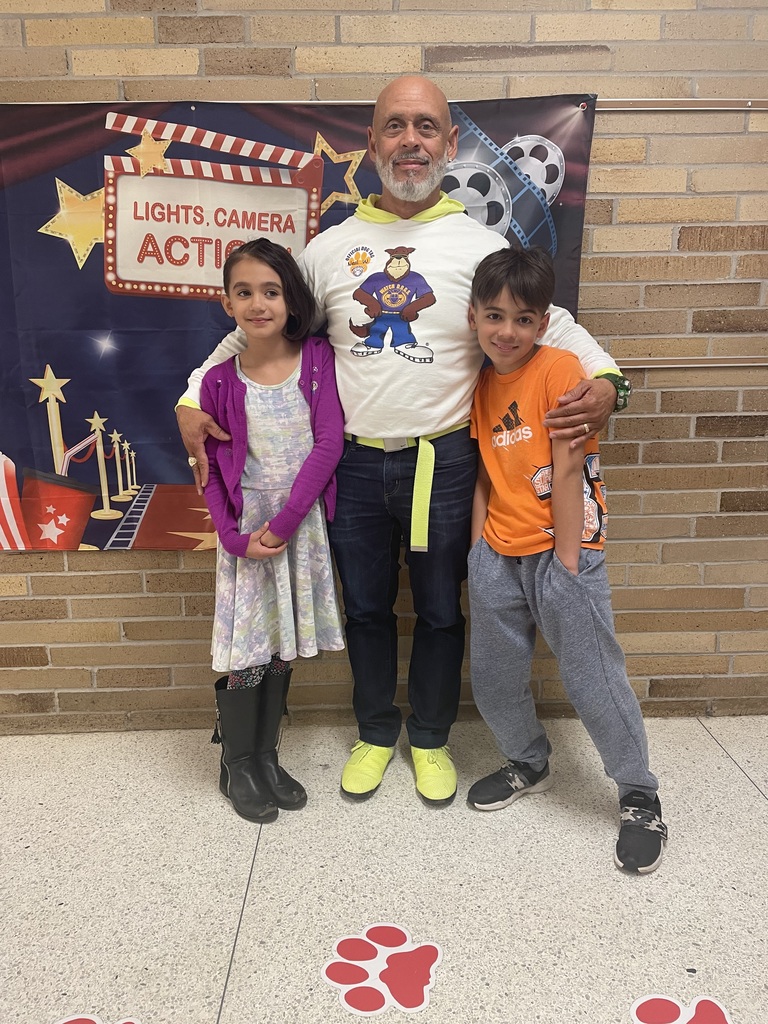 Everyone is Mrs. Tapper's class worked on a shared experience during bridge building. The next step will be reflecting on the experience on a planning guide before writing their personal narratives based on the activity. There was a lot of trial and error! This was also a great team building opportunity as they had to talk through their thinking and the process to work together to build one bridge that would hold a cup of items.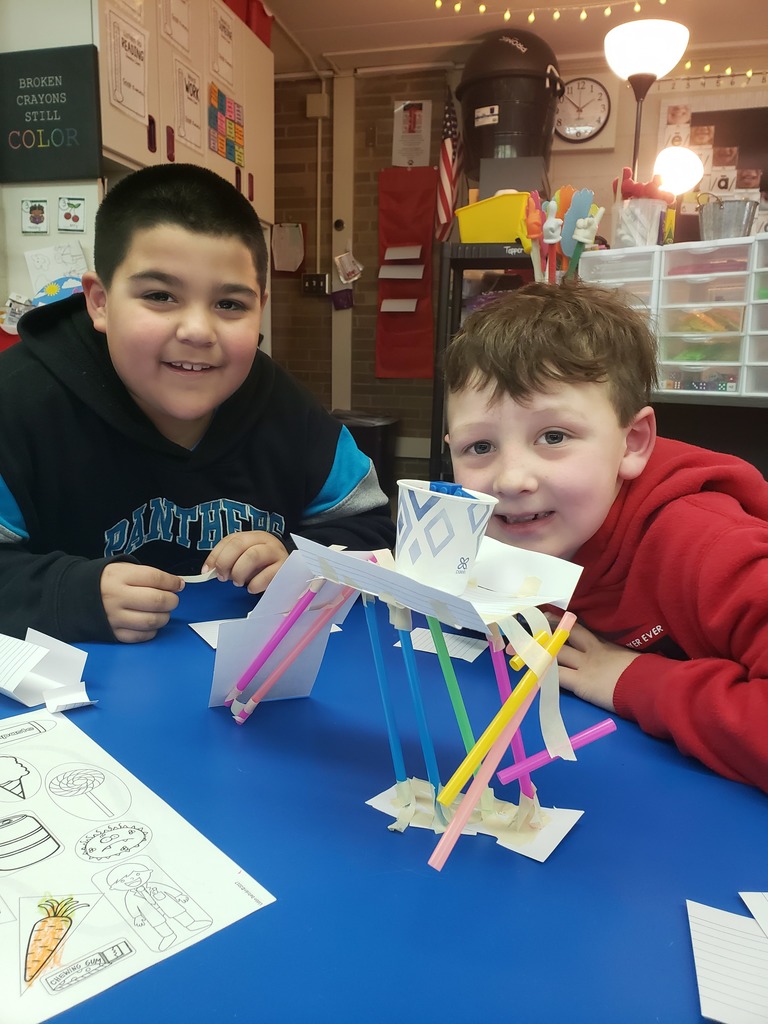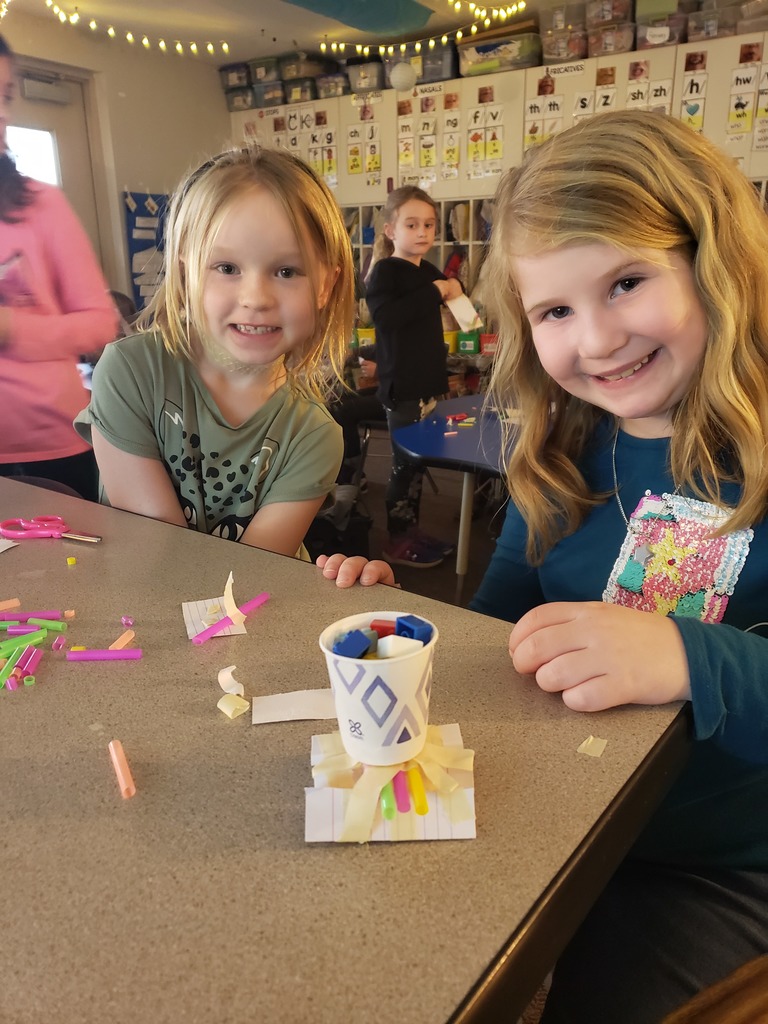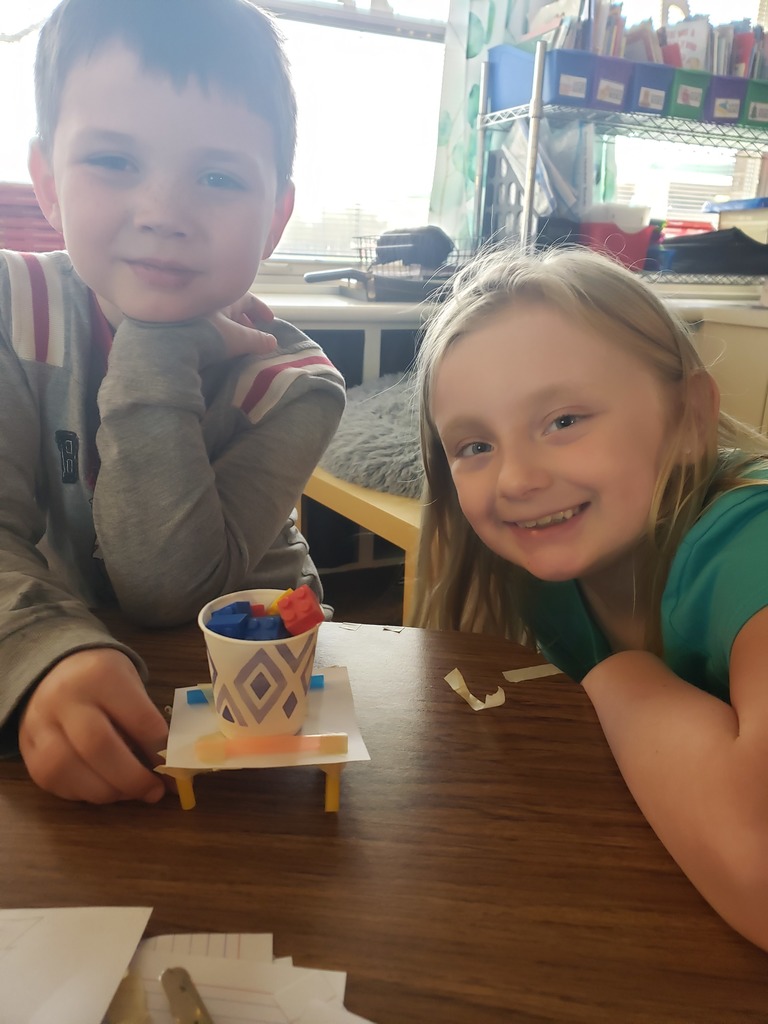 Did you know winter sports practices run past 9 p.m. most evenings due to lack of practice space at the high school? One goal of the May 3 bond proposal is to reduce late evening practice times by building a multipurpose addition at the high school. #BuildTogetherPawPaw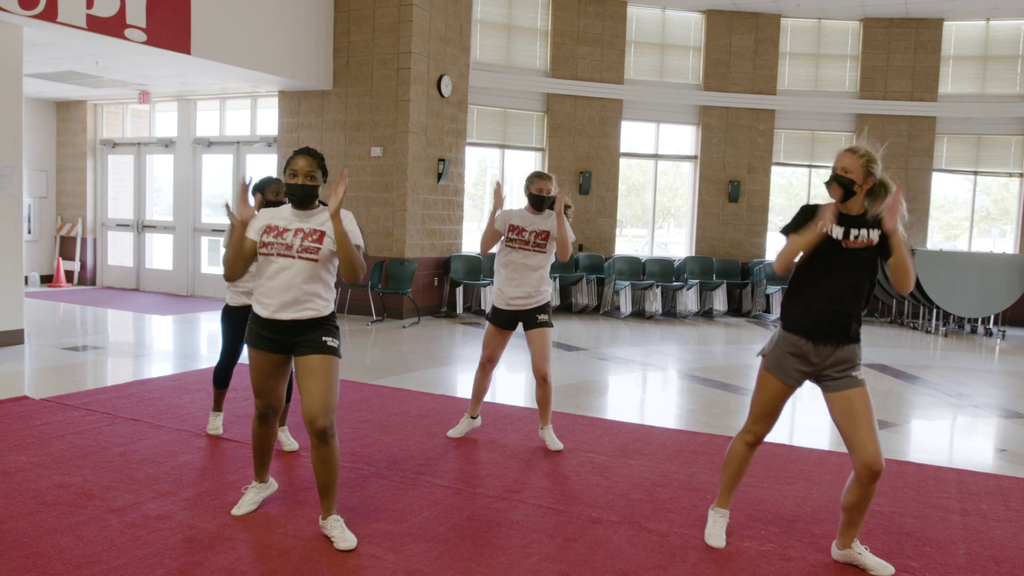 Community Forum Tonight! This event is open to the public and is a great opportunity to ask questions. Superintendent Rick Reo will share a presentation, then guests are invited to a walk through and explanation of proposed projects. #BuildTogetherPawPaw

If you haven't heard from your student already, our school had a very special visitor this week! On Tuesday Miss Southwest Michigan, Shelby Lentz, was a guest on our morning announcements and read to our students. Shelby is an amazing talent. She sang the chorus of her song Champion during announcements and read the students her book, Brave Breanna. Look this young woman up, you will be very impressed with her music and her book. As Miss Southwest Michigan, Shelby had the chance to compete in the Miss Michigan Pageant. We wish you luck Shelby and thank you for spending a good part of your day with us at the Early Elementary!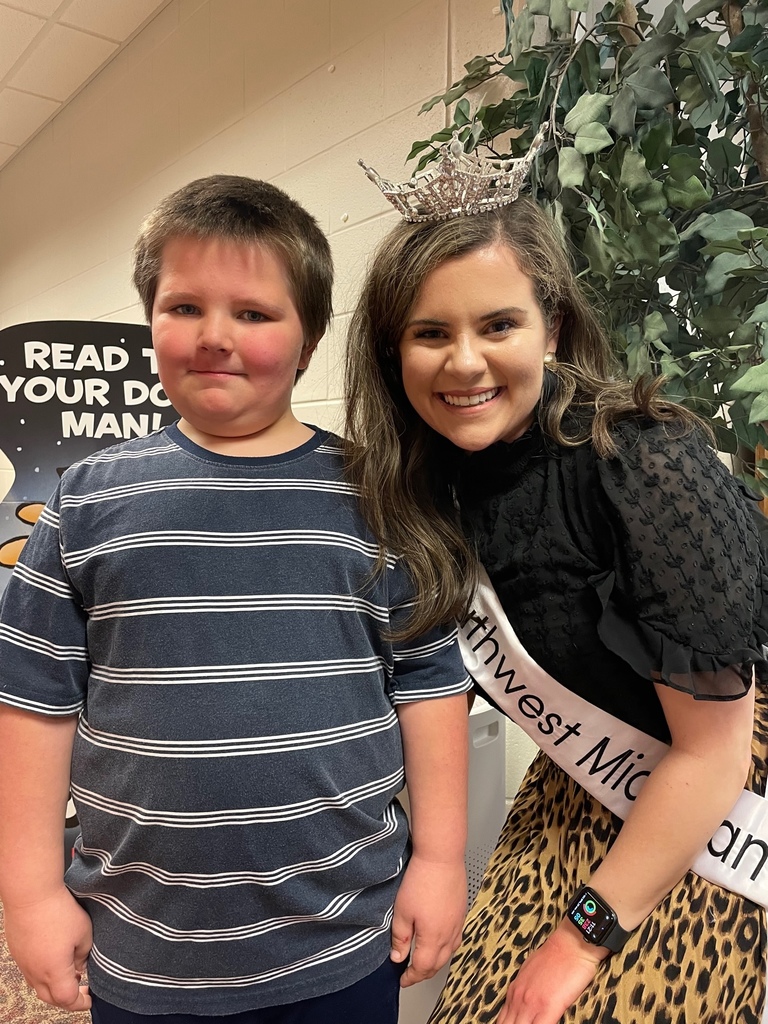 Mark your calendar to join Superintendent Rick Reo for a Bond Proposal presentation and discussion this Thursday, March 24th at 7 p.m. at Paw Paw Later Elementary. Guests are also invited to a walk through and explanation of proposed projects at the Elementary Campus. #BuildTogetherPawPaw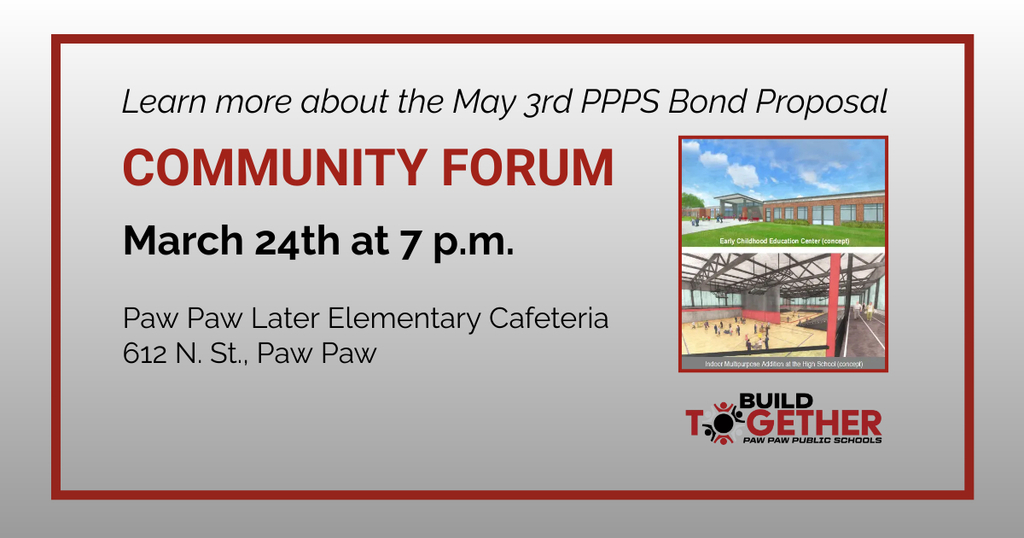 Your Board of Education wants you to know about the great things they see happening in and around Paw Paw Public Schools! #BuildTogetherPawPaw

Kids Heart Challenge™ is on the move! Our students are doing great with our Kids Heart Challenge program, and if you haven't already, please register today! We've already had 50 Students register and take the challenge and have raised $4,516!!! GREAT JOB! Take a Detour AND Complete Finn's Mission where you can learn how to save a life! You will also earn your very own Finn Lifesaver Keychain. Every REGISTERED student will get a free Wristband Please refer to this ELECTRONIC ENVELOPE (
https://www2.heart.org/site/SPageNavigator/ym_khc_get_started_guide.htm)lto
learn more about our heart hero explorers, how to register and Finn's life-saving mission. Click here to get started today!
http://www2.heart.org/goto/pawpawearly
or download the Kids Heart Challenge app!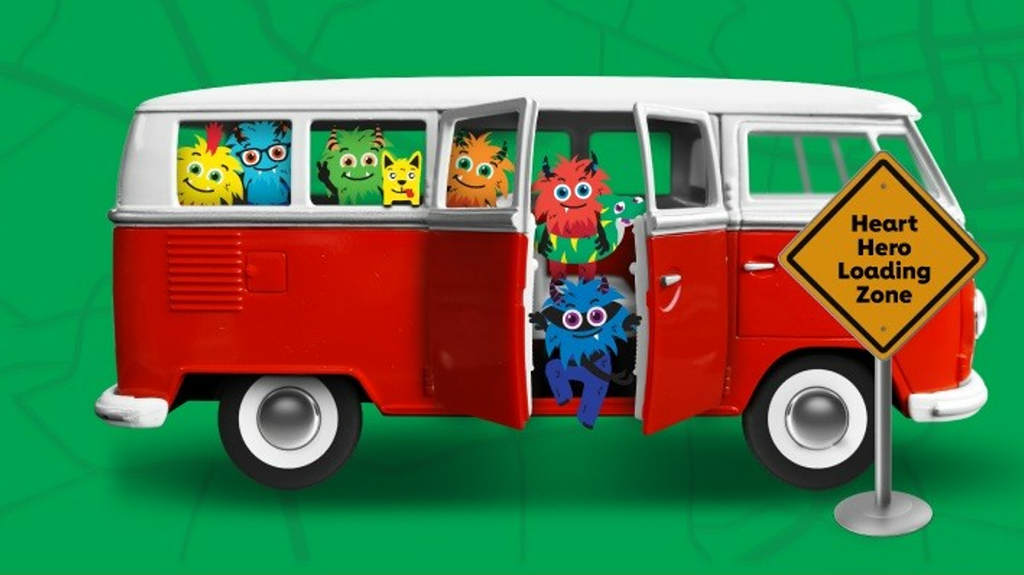 Please join Superintendent Rick Reo for a Bond Proposal presentation and discussion on Thursday, March 24th at 7 p.m. at Paw Paw Later Elementary. This event is open to the public. Guests are also invited to participate in a walk through and explanation of proposed projects at the Elementary Campus. #BuildTogetherPawPaw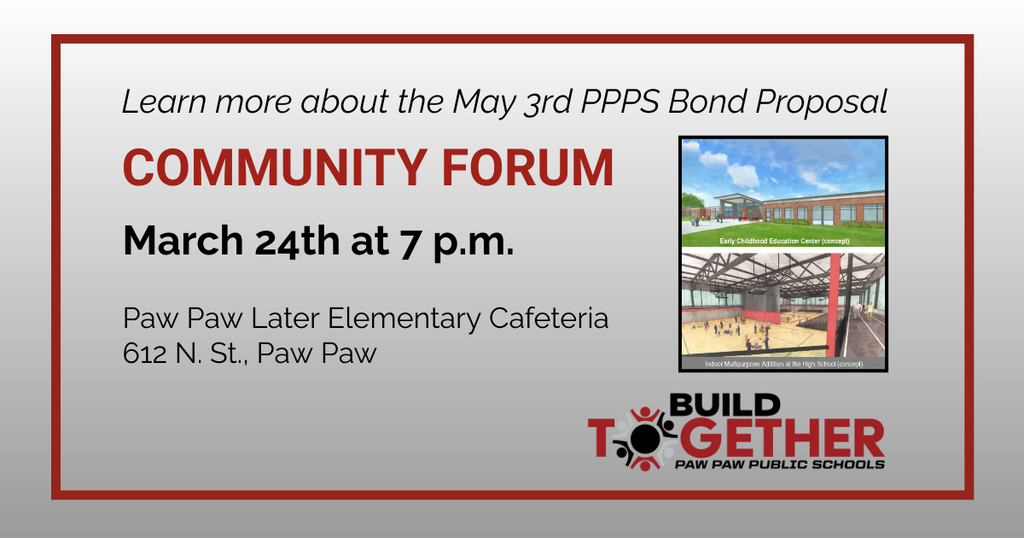 Officer McMeekan visits Mrs. Tapper's class and tells them all about his uniform and some great things he has done to help the community. We also learned about how we can be prepared for an emergency. Attachments area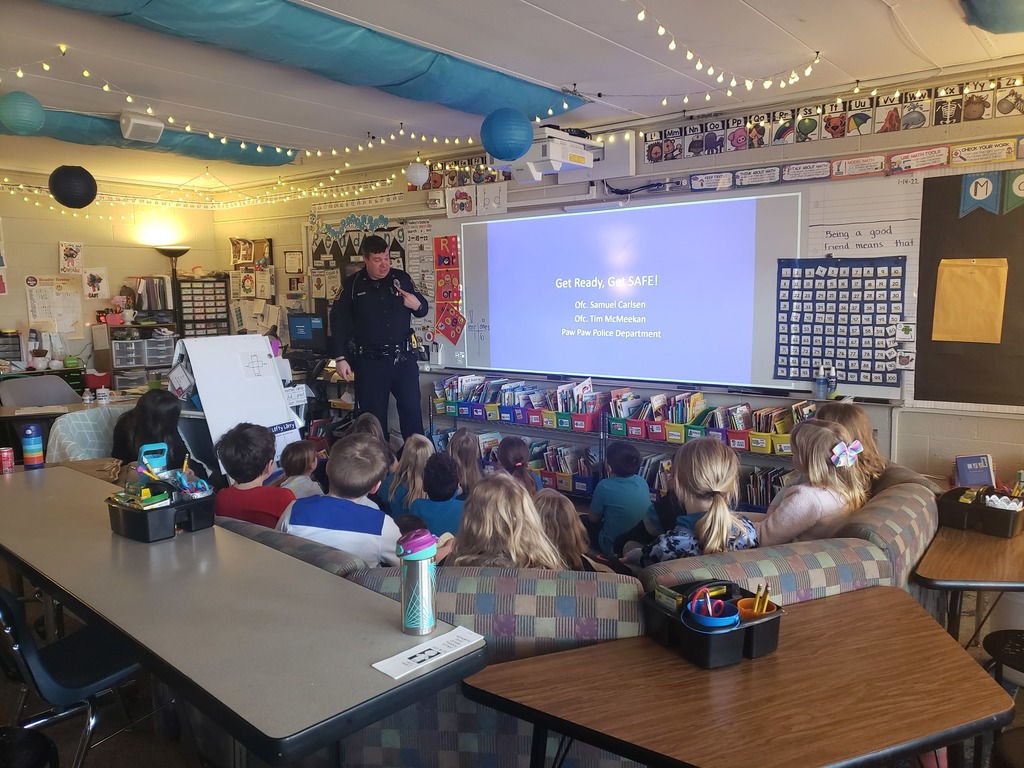 Mrs. VanDenBoom's Kindergarten class had a surprise visitor this week! Officer Jason lead an introductory lesson about what police do for people and the community.

Lunch is on us! We're inviting all Seniors 60 years and older to be our honored lunch guests on Friday, March 18th at Paw Paw High School Cafeteria. #BuildTogetherPawPaw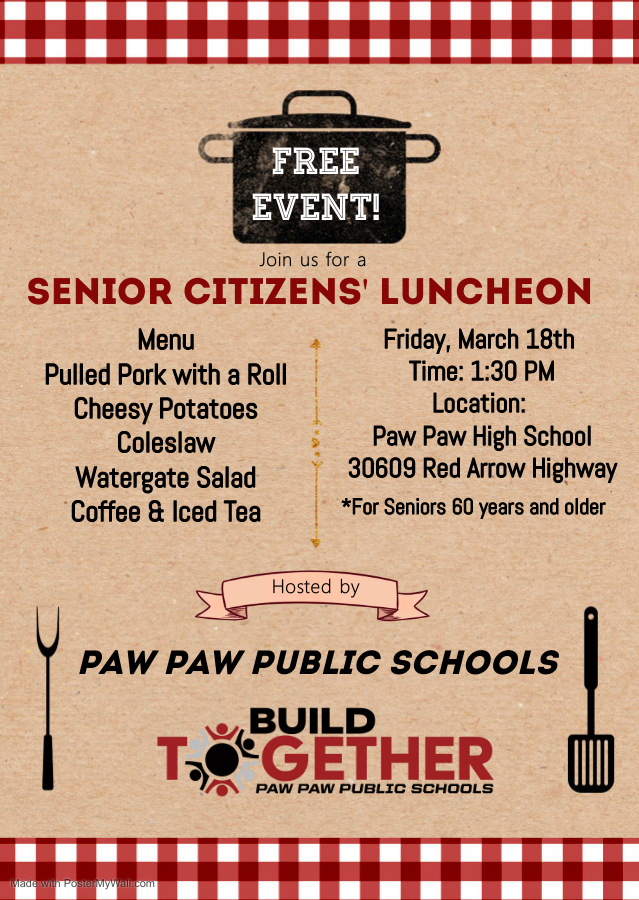 Text And Learn for Kindergarten Who can participate? Parents and caregivers in Michigan with children ages 5 and under can sign up to receive TALK messages for up to two children, in English or Spanish. 3 easy ways to sign up! * Text TALK to 75547 and enter information by text message as prompted. * Visit
www.texttolearn.com
and fill out the online form. * Fill out a paper form and return it to your local library. What information is needed to sign up? * A child's birthdate, so we can send activities tailored to a child's development * A zip code, so we can send event notifications Who is providing this service? TALK is provided by Paw Paw District library in partnership with the Library of Michigan, the Midwest Collaborative for Library Services, and the Ypsilanti District Library. The HighScope Educational Research Foundation is evaluating TALK. Users will be able to participate in this important evaluation through surveys, interviews, and questionnaires. Funding from the Institute of Museum and Library Services allows public libraries in Michigan to provide TALK to parents and caregivers in their service area with the help of community partners like you. How can my organization get involved? Schools, daycares, pediatricians, social service agencies, and other organizations can help spread the word! We would love to talk to you and your staff about the benefits TALK offers to your clients. Please contact us to schedule a staff presentation or to deliver posters and flyers you can distribute directly to parents.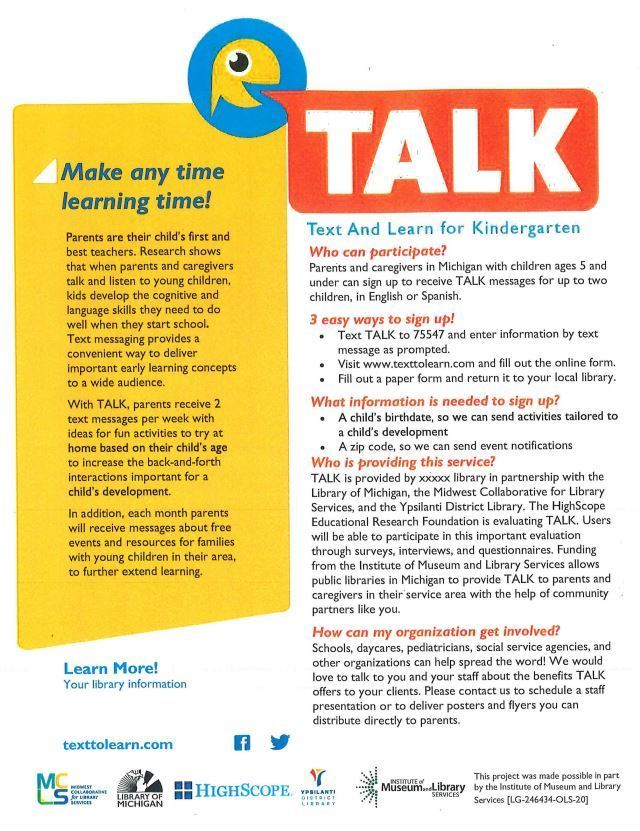 Officer Jason was at the Early Elementary on Wednesday to instruct Mrs. Davison and Ms. Conner's 2nd grade classes in the importance of Computer Safety.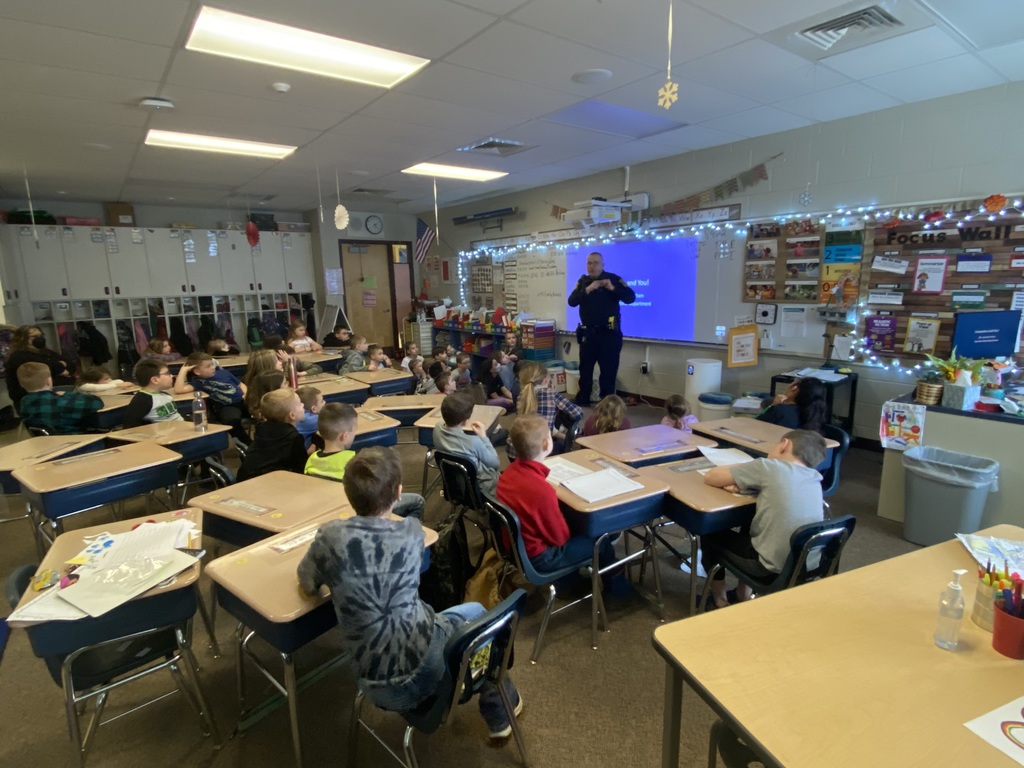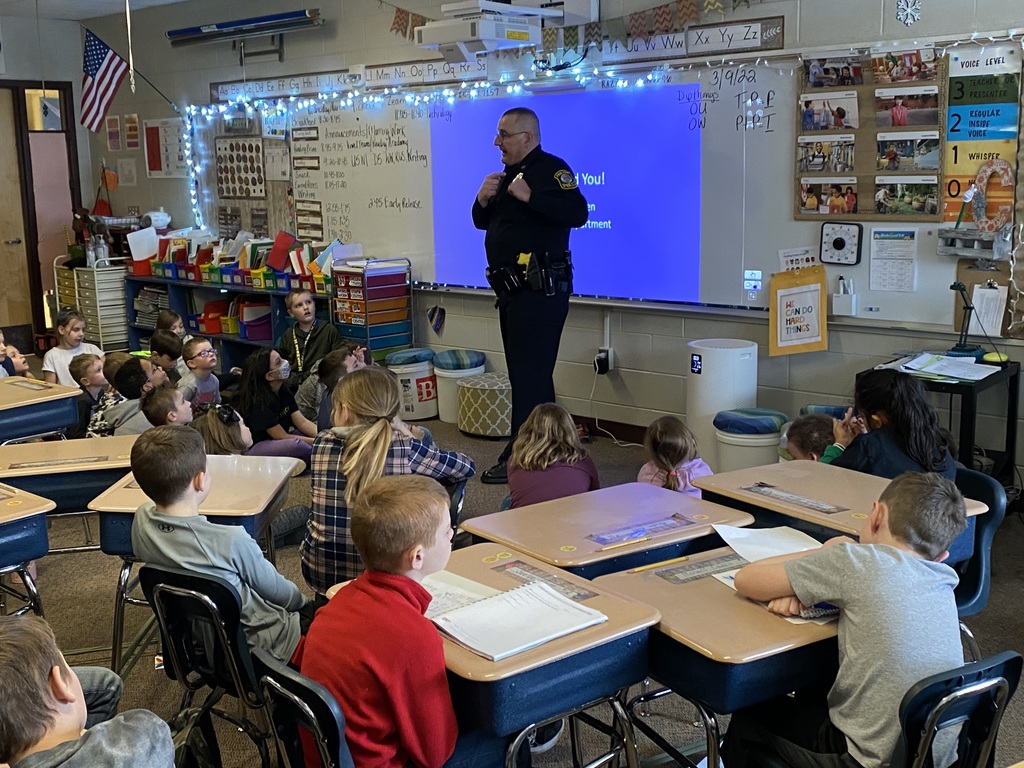 Mrs. Remillard enjoyed a celebration with one of Mrs. Doyles small groups. They got pizza, rootbeer floats, and awards!