Did you know winter sports practices run past 9 p.m. most evenings due to lack of practice space at the high school? One goal of the May 3 bond proposal is to reduce late evening practice times by building a multipurpose addition at the high school. #BuildTogetherPawPaw

Community Forum Tonight! This event is open to the public and is a great opportunity to ask questions. Superintendent Rick Reo will share a presentation, then guests are invited to a walk through and explanation of proposed projects. #BuildTogetherPawPaw

Mark your calendar to join Superintendent Rick Reo for a Bond Proposal presentation and discussion this Thursday, March 24th at 7 p.m. at Paw Paw Later Elementary. Guests are also invited to a walk through and explanation of proposed projects at the Elementary Campus. #BuildTogetherPawPaw

Your Board of Education wants you to know about the great things they see happening in and around Paw Paw Public Schools! #BuildTogetherPawPaw

Please join Superintendent Rick Reo for a Bond Proposal presentation and discussion on Thursday, March 24th at 7 p.m. at Paw Paw Later Elementary. This event is open to the public. Guests are also invited to participate in a walk through and explanation of proposed projects at the Elementary Campus. #BuildTogetherPawPaw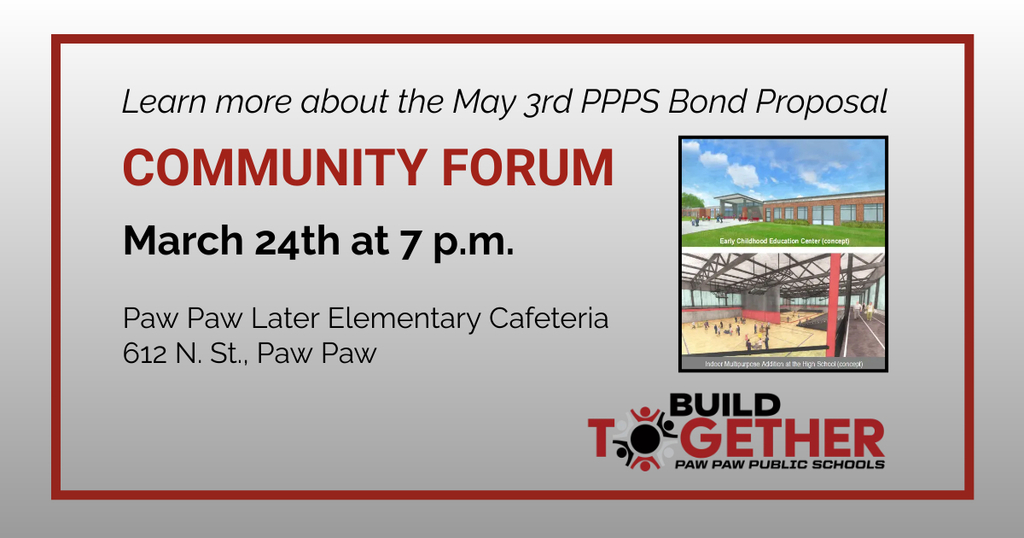 Lunch is on us! We're inviting all Seniors 60 years and older to be our honored lunch guests on Friday, March 18th at Paw Paw High School Cafeteria. #BuildTogetherPawPaw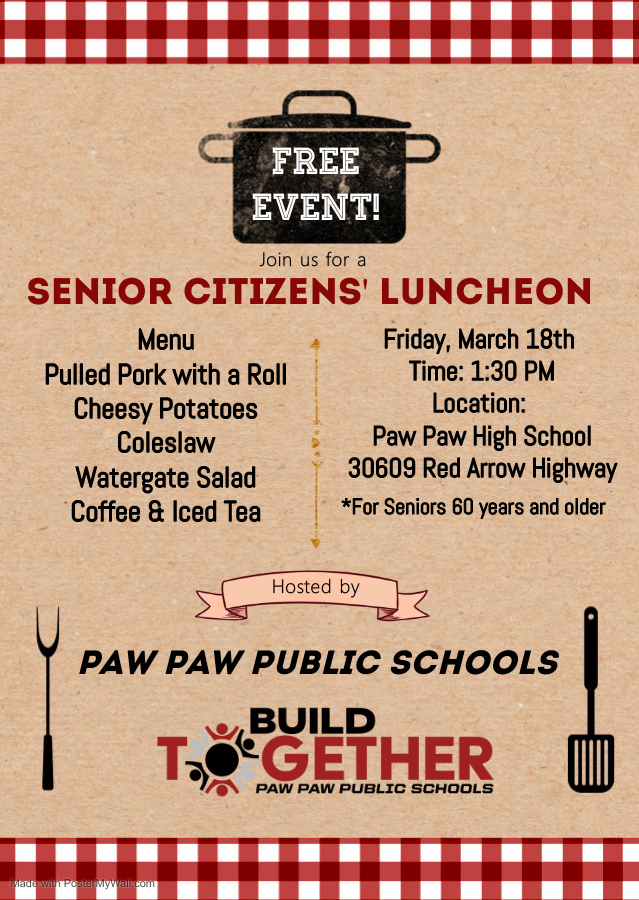 Early childhood education helps reduce education equity gaps that exist for children. Shown here, the proposed Early Childhood Education Center would be built north of the Later Elementary building. This new facility would expand our preschool programming, daycare, and before-and-after school care. Visit
www.ppps-bond.com
for more information. #Maybondproposals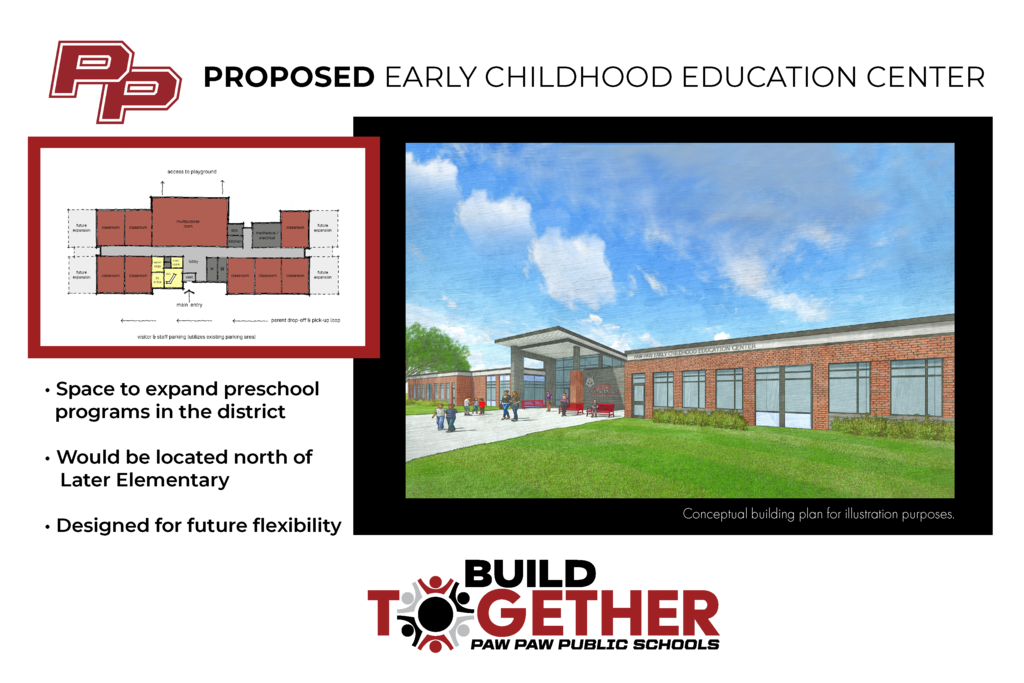 If you've been longing to get back to in-person cultural events like plays, concerts and musicals, now's your chance! Get your tickets now for Curtains School Edition this Friday - Sunday at Paw Paw's own Performing Arts Center. Your presence would mean the world to these students who have worked so hard to perform for a live audience! #livetheatre Box Office: 269-415-5563 or order tickets online:
https://pphspac.ludus.com/
Paw Paw Schools will be closed Thursday, February 3, 2022 due to road conditions.
PPPS will be closed today due to worsening driving conditions and the high likelihood of continued heavy snowfall throughout the day. Also, elementary parent-teacher conferences that were scheduled for today are being postponed until next week. More information to follow.

Here's a shout-out to Paul Garrod and The Courier-Leader for helping us spread the word about last night's Bond Campaign Kick-Off Meeting! If you are interested in learning more or participating in the information campaign, please contact
rick.reo@ppps.org
or call 269-415-5200.

Everyone is invited to come out tonight for the 1st Annual Quarter Auction fundraiser at Paw Paw Later Elementary! Preventative steps have been taken to keep everyone safe and healthy by promoting social distancing and requiring masks for all guests and volunteers. Hot dogs, chips, drinks, and candy will be available to purchase for dinner, and there will be a bake sale with mouth-watering homemade items for dessert. #ForTheKids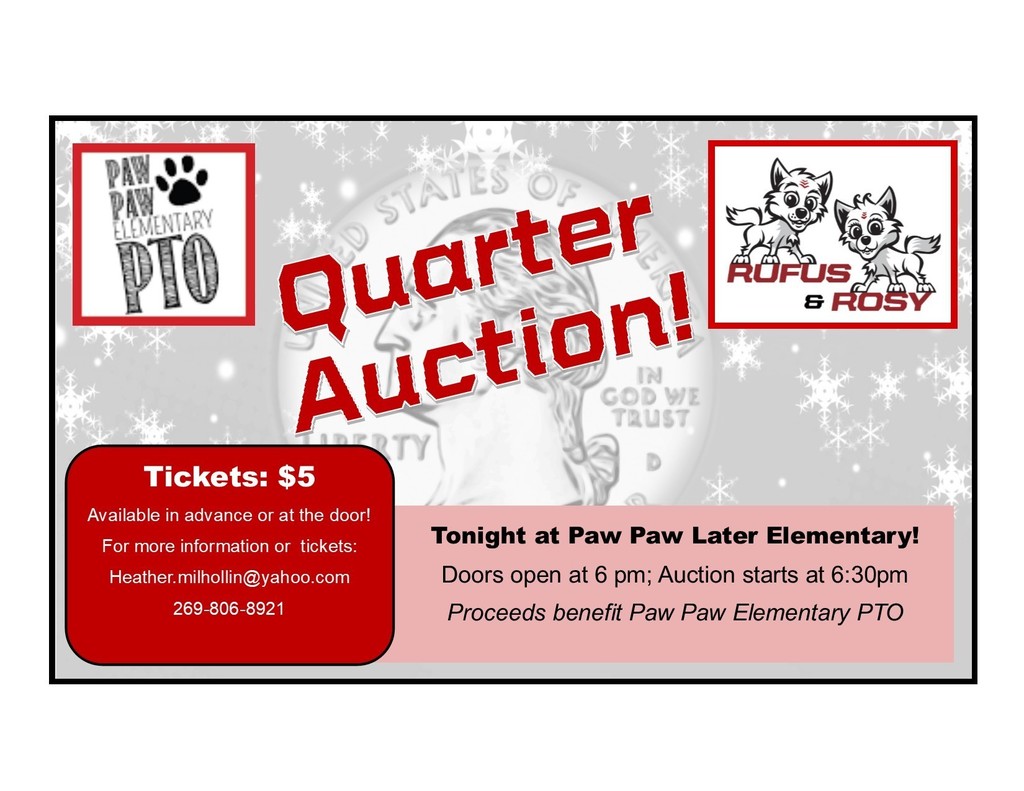 UPDATE: Tonight's Committee of the Whole work session for the school board has been cancelled, as the facilitator will not be able to make it. The 6:00 special board meeting will proceed as scheduled.

Please note that tonight's special meeting of the Board of Education will take place at the ADMINISTRATION BUILDING at 6:00 p.m. A Committee of the Whole Work Session (also a public meeting) will follow at 7:00 p.m.

"The function of education is to teach one to think intensively and to think critically. Intelligence plus character - that is the goal of true education." Dr. Martin Luther King, Jr. #MLK

We had a GREAT day at Cedar Street. The students had a decorating contest, played a holiday gift exchange game, participated in the Annual Cedar Street Reindeer games and ended the festivities with an indoor snowball fight. Happy Holiday's from us to you. Have a fun and safe break. We will see you back here at school on Jan. 3rd.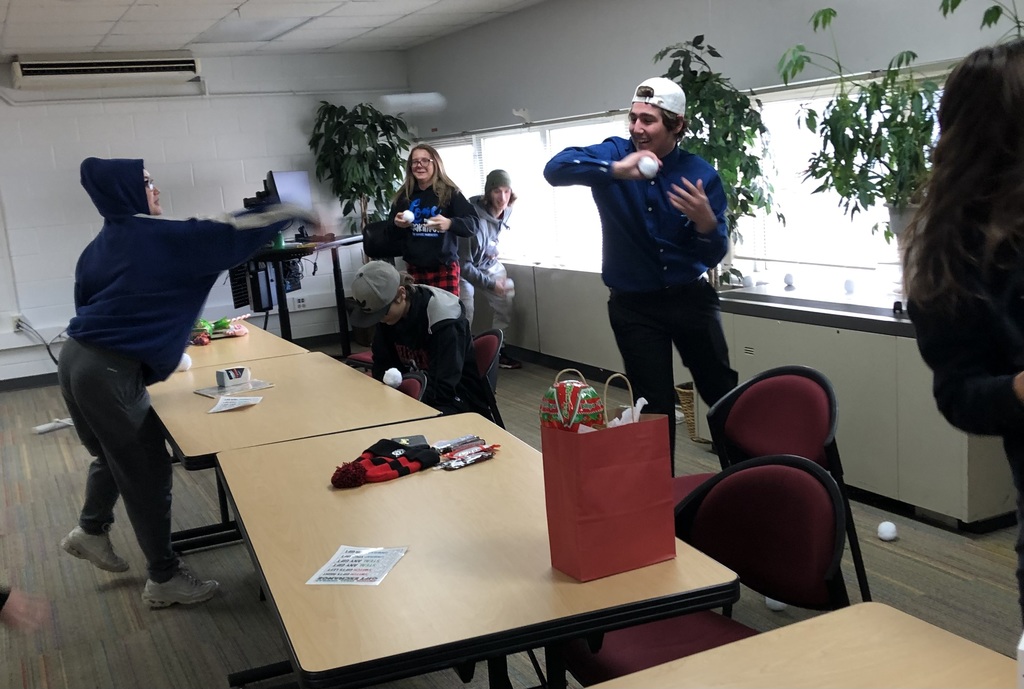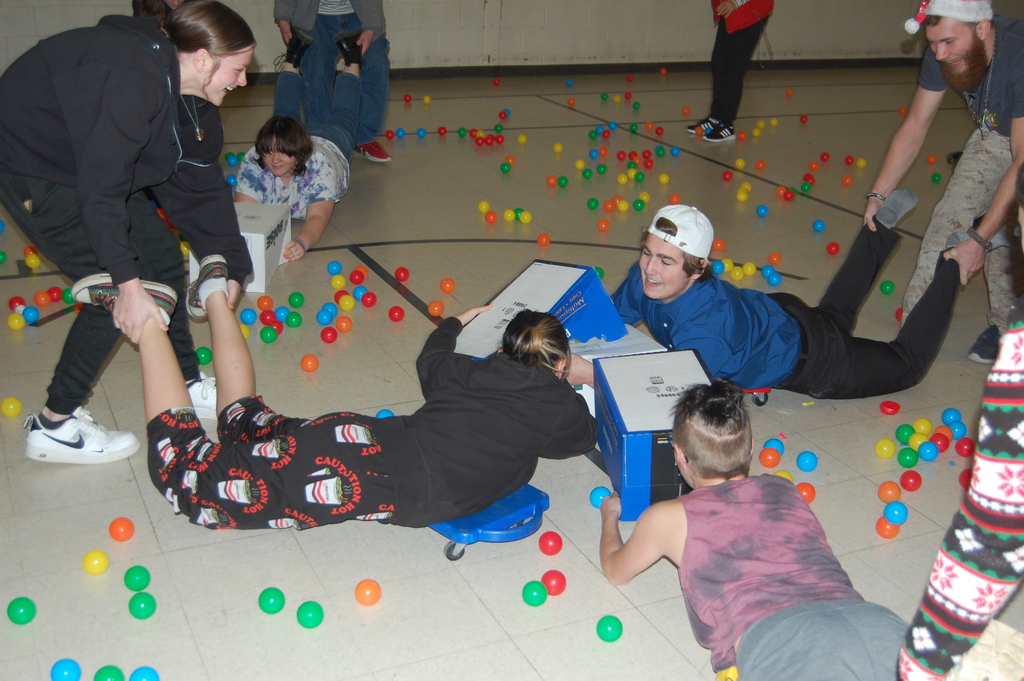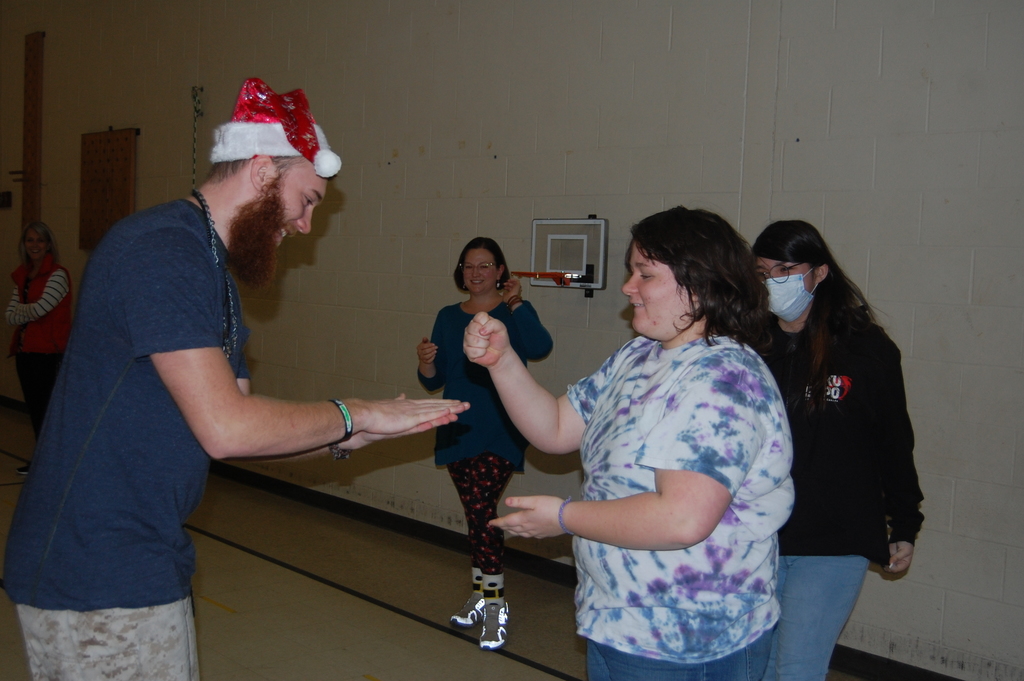 Your Board of Education wants you to know about the great things they see happening in and around Paw Paw Public Schools! #pawpawpride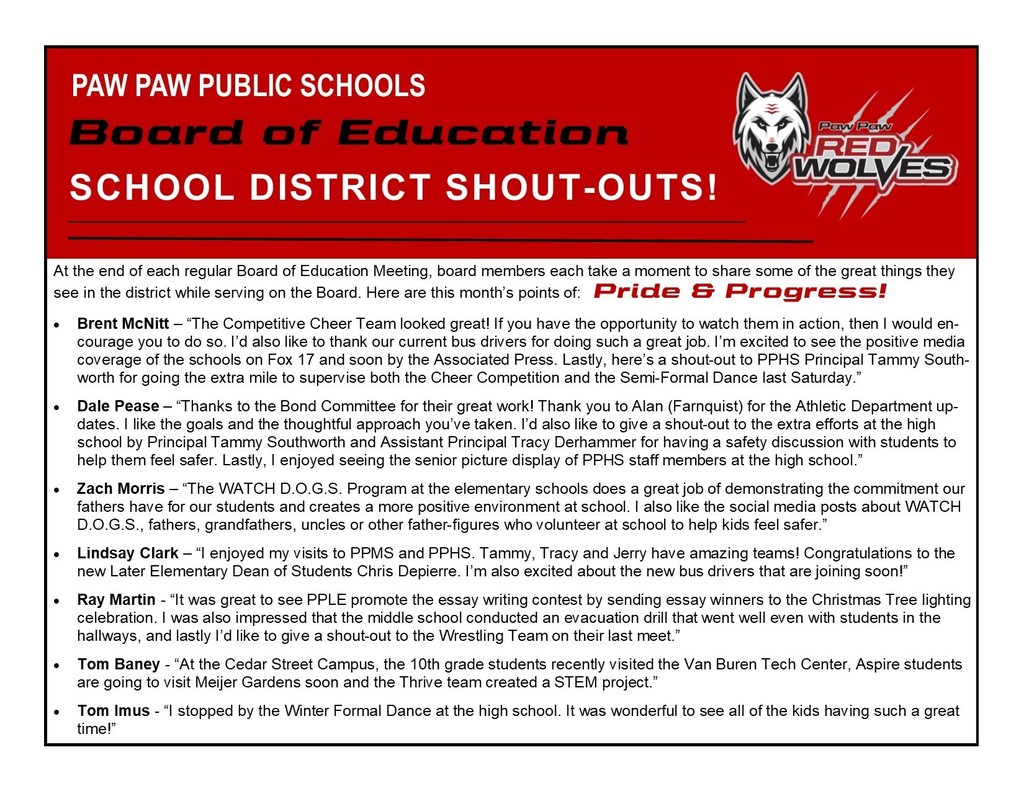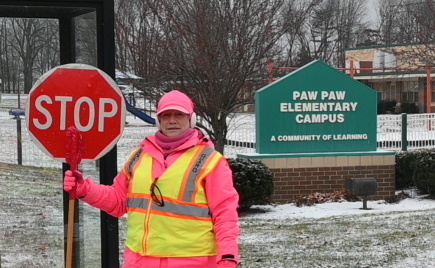 Sorry for the late notice due to unforeseen circumstances our elementary frog run will be cancelled this afternoon.

The ties that bind Paw Paw are strong! We're in awe at everyday heroes like Tracy Markillie, hardlines team lead at Walmart Supercenter, who show up with a cartful of binders to generously donate to PPHS. Thank you, Walmart of Paw Paw! #pawpawproud #walmart