2020-21 RETURN TO LEARNING RESOURCES
PPPS COVID-19 DISTRICT PREPAREDNESS AND RESPONSE PLAN
COVID-19 SCHOOL HEALTH SCREENING PARENT AGREEMENT
The COVID-19 School Health Screening Parent Agreement documents the procedures for at-home health screenings that need to take place daily before students are sent to school. Parents/guardians of all students must complete this form, agreeing to fulfill this responsibility each day. Students showing COVID symptoms should not be sent to school.
FLOWCHART: WHEN STUDENTS OR STAFF MEMBERS HAVE COVID-LIKE SYMPTOMS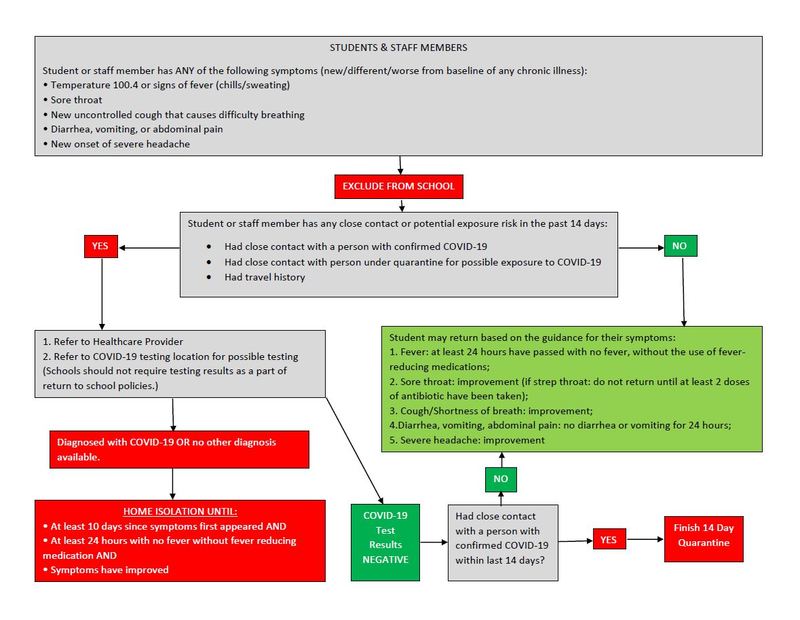 FACIAL COVERING EXEMPTION FORM
The Facial Covering Exemption Form is the required form for those students that "cannot medically tolerate a facial covering". This form needs to be completed by the student's physician. Once the form is completed, the parent (or student if 18 years or older) must meet with the building principal/director to discuss options for a safe return to school based on the information provided by the student's physician.
The Van Buren/Cass District Health Department has approved the Starlight Face Shield as an alternative to a cloth facial covering in schools, although cloth facial coverings remain preferable because they afford more protection. Use of the Starlight Face Shield is recommended for (1) teachers who are instructing students with hearing impairments, and (2) teachers who are instructing students with other disabilities that create difficulties when the students cannot see facial expressions, and (3) teachers providing reading instruction to young students. While PPPS is not recommending it for students, the Starlight Face Shield will be permitted to be used by students who have difficulty wearing a cloth facial covering. Parents/students would be responsible for purchasing and caring for the Starlight Face Shield if they choose this option. The Starlight Face Shield is the ONLY face shield that is permitted as an alternative to a cloth facial covering. Visit the following website and scroll down to the Starlight Face Shield to order: https://shieldsourceusa.com/?fbclid=IwAR1a2KNVvPkrqUJ3arVWFl6O7KsQbACp6GbvVl__CjkW2A7aL0mpY4LCOtI