COVID-19 SCHOOL HEALTH SCREENING PARENT AGREEMENT
The COVID-19 School Health Screening Parent Agreement documents the procedures for at-home health screenings that need to take place daily before students are sent to school. Parents/guardians of all students must complete this form, agreeing to fulfill this responsibility each day. Students showing COVID symptoms should not be sent to school.
FLOWCHART: WHEN STUDENTS OR STAFF MEMBERS HAVE COVID-LIKE SYMPTOMS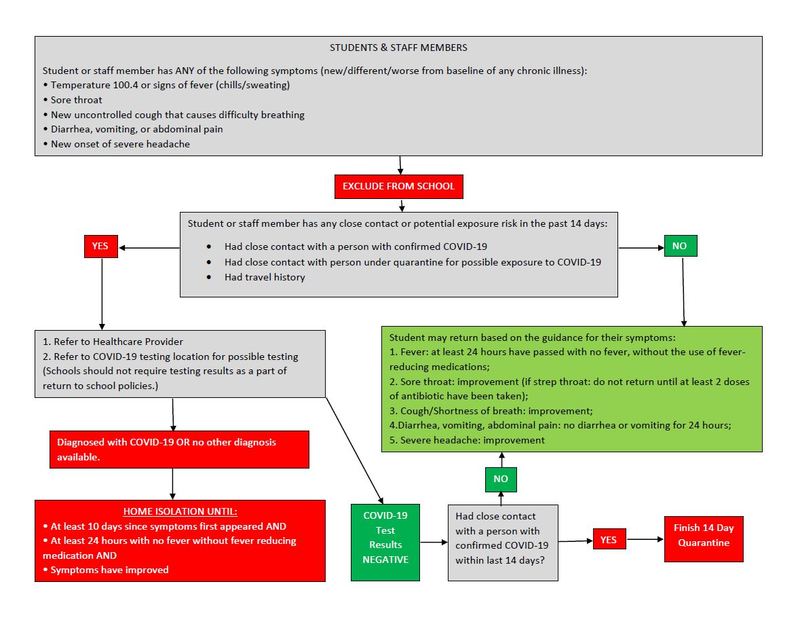 FACIAL COVERING EXEMPTION FORM
The Facial Covering Exemption Form is the required form for those students that "cannot medically tolerate a facial covering". This form needs to be completed by the student's physician. Once the form is completed, the parent (or student if 18 years or older) must meet with the building principal/director to discuss options for a safe return to school based on the information provided by the student's physician.
PPPS EXTENDED COVID-19 LEARNING PLAN
The PPPS Extended COVID-19 Learning Plan describes the District's educational goals, modes of instruction, and general assessment and grading practices for the 2020-21 school year. This plan is reviewed at monthly Board meetings, at which time citizens are able to comment on the plan during public participation.